KUNDUZ -- Afghan civilian casualties have skyrocketed over the past three weeks as the Taliban launched attacks in several districts of Kunduz province and Kunduz city.
Kunduz Regional Hospital received 45 deceased and 670 wounded civilians between June 22 and July 12, said Ehsanullah Fazli, the director of the facility.
The vast majority of the casualties were children, women and the elderly, he said.
"Civilian victims sustained casualties as a result of mortar shelling, gunshots and the collapse of their houses," Fazli said.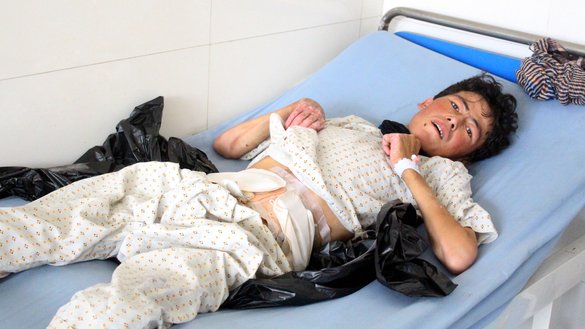 Sayedullah Haq Shinas, a resident of the Zar Kharid area in Kunduz city, is recovering at the hospital after a Taliban shell hit his house July 1.
The shelling killed his son.
"You can hardly find a household that does not have a family member killed or injured," Shinas said, adding that many of his neighbours were forced to flee to the relatively safer Sar-e-Dawara area of Kunduz city.
Hashmatullah, a resident of the Seh Darak area of Kunduz city, said he and his brother were wounded by a Taliban shell that hit their house while they were sleeping on the night of July 3.
"They are bringing dead bodies and wounded civilians to the hospital every day," he said, adding that the conflict has devastated civilians' lives.
Because of the surge in Taliban attacks, residents have evacuated their homes in areas surrounding Kunduz city, said Ghulam Haidar, a resident of the city's Kandak Enayat neighbourhood.
"What do the Taliban eventually expect from civilians? How long will the war and devastation continue?" he said.
Haidar urged the Taliban to immediately halt their violence and let civilians return home.
More than 12,000 families have been displaced in the capital and a few districts of Kunduz province during the past month, said acting Kunduz Governor Najibullah Omarkhail.
The government has started providing humanitarian assistance to the displaced families, he said.
So far the local government in co-ordination with non-governmental organisations has provided assistance to about 5,000 families, he said July 16.
Officials have identified another 3,000 families to receive assistance in the future.
Calls for ceasefire, negotiated peace
Civil society activists and elders from Kunduz province at a news conference July 11 strongly condemned the Taliban's acts of violence and called for an immediate ceasefire.
The Taliban have caused civilian casualties, displaced thousands of families, increased poverty and destroyed residents' houses, said Enayatullah Khaliq, director of a civil society organisation in Kunduz Province.
"Unfortunately, the condition of civilians is of great concern," he said, highlighting rising poverty, food shortages, displacement and other problems.
Targeting civilians violates the rules of war, said Abdul Maroof Rasikh, a Kunduz-based civil society activist.
Displaced families are facing enormous challenges, including a shortage of food and medication, he said, urging all warring parties to agree to an immediate ceasefire.
"The continuation of conflict takes the lives of civilians," said Malalai Saad, a women's rights activist.
"If the Taliban's goal is to gain power, they must sit around the negotiation table and refrain from deliberately killing innocent civilians," she said.