DUSHANBE -- Tajikistan, which shares a 1,344 km border with Afghanistan, is preparing for a potential influx of Afghan refugees following the Taliban's takeover of the country.
Although nothing at present portends a mass exodus from Afghanistan's border districts, authorities say that a possible escalation of tensions on the border or repression by the Taliban could cause the flow of refugees to swell.
The United Nations Development Programme (UNDP) Office in Tajikistan announced October 14 that it had opened a UN warehouse in Khatlon province as a contingency for a possible escalation of the situation on the Afghan border.
It is designed to supply tents, bedding, kitchen utensils, stoves, clothing, hygiene items and other essentials to help at least 100 families. The goods are worth about 3 million TJS ($256,000).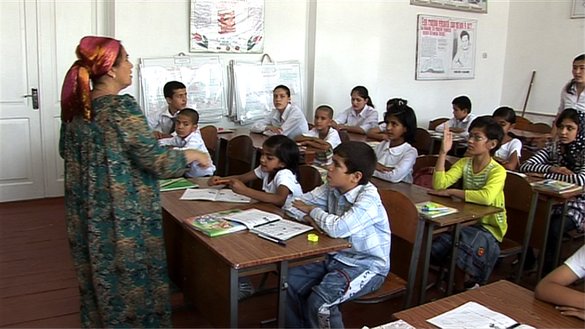 The Japanese government is funding that warehouse and another one under construction in Khorog, Gorno-Badakhshan Autonomous Province (GBAO). They are part of a project to strengthen the Tajik-Afghan border.
"The world is experiencing one of the most destructive and profound structural, social and economic shocks in recent history, including increased risk of extreme climate but also manmade crises such as the recent developments in Afghanistan," UNDP Resident Representative in Tajikistan Pratibha Mehta said in a statement.
"The government of Tajikistan is taking all steps for preparedness and response to any crisis and humanitarian needs of those affected by natural disasters and potential influx of refugees from Afghanistan," she said.
Preparations under way
Such steps have included the creation of refugee camps.
Up to 5,000 Afghan citizens have taken refuge in Khatlon province and GBAO, both of which border Afghanistan, the European Union (EU) said in a statement September 14.
Workers are creating a refugee camp in Khirmanjo, Shamsiddin Shokhin district, Khatlon province, with help from the EU, AsiaPlus reported September 22.
Tolibsho Nazrizoda, chief of staff to the chairman of the Jayhun District government, also confirmed that the Interior Ministry (MVD) was establishing a camp in Panj jamoat (municipality), Jayhun district, Khatlon province.
Tajikistan's Committee for Emergency Situations and Civil Defence (KChS) is converting its old training bases in two districts to accommodate refugees from Afghanistan, a UN source in Tajikistan said on the condition of anonymity.
Although the bases are of relatively modest size, they can accommodate a small number of refugees in comfortable conditions.
"We're talking about receiving a small number of refugees," the source said. "These sites can accommodate a maximum of 5,000 people."
One of the sites, in Karatag, Shahrinav district, is undergoing renovation and reconstruction as part of a joint project among the EU, Organisation for Security and Co-operation in Europe (OSCE) and the Tajik KChS.
The other site is situated in Jalaluddin Balkhi district, Khatlon province, 50km from the Afghan border.
"The areas [of the old bases] are ... almost 20 hectares in each district," the source said. "Because the sites are militarised, they have fencing and security that can be strengthened. If necessary, [authorities] can set up tents, but all this requires a lot of money."
Authorities have dedicated some space for refugees in Ishkashim district, GBAO, as well.
They already have accepted refugees there, some of whom subsequently returned to Afghanistan, he said. They transferred others to other parts of Tajikistan, while some remain in Ishkashim.
The UN High Commissioner for Refugees (UNHCR), UNDP and EU are in constant contact with each other and are working to find resources to assist Tajikistan as much as possible to help the refugees who have already ended up in the country, the source added.
Fleeing the Taliban
The humanitarian crisis in Afghanistan is worsening and funding for emergency aid is urgently needed to help 20 million inhabitants there, the UNHCR warned October 12.
"Only 5% of households have enough to eat every day, and more than half of all children under five are expected to become acutely malnourished in the next year," the UNHCR said in a statement.
Afghan refugees in Tajikistan have become more noticeable in recent months, including in Dushanbe, according to Akhmadshoh Komilzoda, a Tajik analyst who worked as a translator in Afghanistan during the Soviet years.
"They are fleeing the Taliban and possible repression," he said. "Today, anyone in Afghanistan could be labelled a traitor or a spy for the United States and its allies."
"And the Taliban's punitive measures are inhuman," he added.
"That's why many people who were living in Tajikistan before the Taliban seized power are afraid to return to their homeland," Komilzoda said.
"Many are trying through foreign countries' embassies to obtain documents for travel to third countries, but this is a very difficult process."
"Still, people wait and hope."