The Khorasan branch of the "Islamic State of Iraq and Syria" (ISIS-K) claimed on Monday (April 18) a rocket attack against Uzbekistan from neighbouring Afghanistan, the first such bombardment of the Central Asian nation by the group.
The group fired 10 Katyusha rockets at Uzbek forces stationed in the border city of Termez in southern Uzbekistan, ISIS said, adding that the attack followed an audio message from an ISIS spokesperson.
On April 17, ISIS called on all fighters around the world to carry out "big and painful" attacks targeting officials and soldiers.
Sherzod Asadov, spokesman for Uzbek President Shavkat Mirziyoyev, denied anything had taken place, and said no activity was reported on the Uzbek-Afghan border.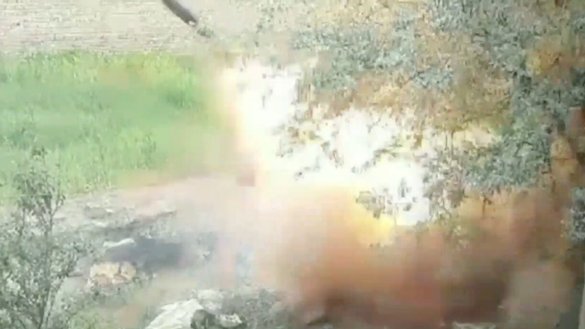 The Uzbek Defence Ministry similarly denied any such event.
ISIS, however, provided photos and videos of the event, and authorities in Afghanistan said their forces made three arrests in Hairatan in connection to the "failed attack".
Growing threat
Recent attacks by ISIS-K amid the prevailing political and economic uncertainty in Afghanistan have raised concerns that the group is expanding its recruitment campaign in the country and poses a serious threat to the region.
Almost 400 civilians have been killed in terrorist acts mostly carried out by ISIS since last August, according to a recent United Nations report.
"ISIS has now become a real threat to Afghanistan more than ever," said Abdul Basir Salangi, former governor of Parwan and Farah provinces and a military analyst based in Turkey, earlier this month.
"If the neighbouring regional countries and beyond continue to support ISIS, the group will ultimately pose a greater risk and it will become very difficult to defeat it," he said.
ISIS is seizing the current power vacuum in Afghanistan as an opportunity to rapidly increase the number of its militants across the country, said Mohammad Naim Ghayur, a military analyst in Herat.
"The increasing number of attacks carried out by ISIS in recent months indicates that this terrorist group has not only solidified its footprint but also has built its capacity to challenge Afghanistan's security," he added, also earlier this month.
Russia looming
In the background, worries are growing about what such terrorist acts could mean for Central Asia.
A number of Afghan analysts say Russia is deliberately exaggerating the threat of ISIS to cement its domination of countries in the region.
Three of Afghanistan's neighbours, Tajikistan, Turkmenistan and Uzbekistan, are former Soviet republics still under the influence of Moscow but in recent years have been attempting to move out from the Kremlin's orbit.
This move towards independence has Russian President Vladimir Putin and his allies worried, and observers say recent events show how the Russians are trying to get countries back into the fold.
Russian intelligence has determined that about 2,000 battle-hardened ISIS militants are concentrating in northern Afghanistan and may attempt to destabilise nearby countries through "direct expansion", Putin told a virtual summit of the Commonwealth of Independent States (CIS) last October.
No other intelligence agency has suggested such a concentrated presence, and by exaggerating the proximity of ISIS on Afghanistan's northern border, Russia is trying to increase its political and security influence over countries across the region to bring them all under its control, said Latif Nazari, an international affairs analyst based in Kabul, in response to Putin's remarks.
Russian Foreign Minister Sergey Lavrov in March echoed his boss's position.
"The plans of ISIS and its supporters to destabilise Central Asian states and export instability to Russia are of particular concern," Lavrov said, according to Reuters.