KYIV -- Russia's threats to use nuclear weapons in its war in Ukraine are unlikely to intimidate anyone -- and if launched, those weapons could end up falling on Russia itself, observers say.
Russian President Vladimir Putin on Wednesday (October 5) signed into law his annexation of four Ukrainian territories -- Donetsk, Kherson, Luhansk and Zaporizhzhia -- following its sham referendums the week before.
In theory, Russia's annexation would allow Moscow to accuse Ukrainian forces of attacking Russian territory and give it a pretext to use nuclear weapons.
In Russian military doctrine, tactical nuclear weapons can be used to force an adversary to retreat.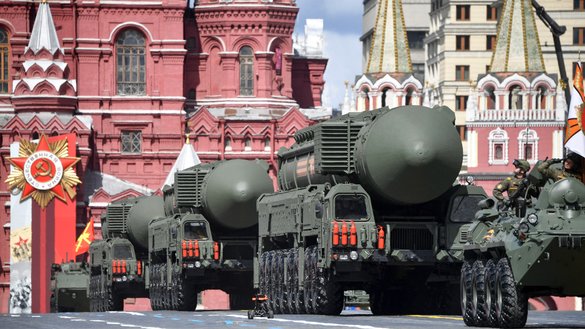 When Putin on September 21 announced a "partial mobilisation" of 300,000 reservists, he vowed to use "all available means" to protect Russian territory.
This was also seen as a threat to use nuclear weapons if Ukraine attempts to take back the annexed territories.
Putin has made no secret of his frivolous approach toward nuclear security.
Speaking at a forum of international specialists in Sochi, Russia, in October 2018, Putin joked about Russia as a supposed victim in a theoretical nuclear exchange.
"The aggressor will have to understand that retaliation is inevitable, that it will be destroyed and that we, as victims of aggression, as martyrs, will go to heaven," he said.
"They will simply die because they won't even have time to repent," he said to some laughter from the audience.
The following year the Russian armed forces tested missiles that can carry thermo-nuclear warheads during exercises involving "heightened tensions on Russia's border".
Catastrophic effects
The threats have prompted warnings from Western nations.
US Secretary of State Antony Blinken, in an interview broadcast September 24, confirmed reports that the United States has sent private warnings to Russia to steer clear of nuclear war.
"We have been very clear with the Russians publicly, and, as well as privately, to stop the loose talk about nuclear weapons," Blinken told the CBS News programme "60 Minutes" in New York on the sidelines of the United Nations General Assembly.
"It's very important that Moscow hear from us and know from us that the consequences would be horrific. And we've made that very clear," Blinken said.
"Any use of nuclear weapons would have catastrophic effects for, of course, the country using them, but for many others as well."
Several other countries -- France, Canada, Germany and the United Kingdom -- have responded similarly to Russia's nuclear threats.
Meanwhile, Chechen leader Ramzan Kadyrov said Russia should consider using low-yield nuclear weapons after Moscow's troops were forced out of Lyman, a key town located in eastern Donetsk province.
"In my personal opinion, more drastic measures should be taken, up to the declaration of martial law in the border areas and use of low-yield nuclear weapons," Kadyrov said on his Telegram channel on October 1.
Political blackmail
But Russia's threats are just bluster, say observers.
"We're not talking about actual use. The nuclear issue itself is simply being used as a bit of political blackmail," said Dmytro Snegiryov of Kyiv, a military analyst and co-chair of Just Cause, a non-governmental organisation.
"In recent years, Russian intelligence agencies have formed a permanent lobby in developed countries," he told Caravanserai. "It promoted an idea regarding the use of nuclear weapons to instil fear and force Western countries to bow to their blackmail. Now, at the Kremlin's command, all these resources have been activated."
"It's a question of Ukraine liberating its territories, although Putin is already calling them his own," he said.
"The Kremlin is signalling that the Armed Forces of Ukraine must not advance farther, but in reality, no one is giving in to this blackmail," said Snegiryov.
In recent weeks, Ukraine's forces, bolstered by Western weapons, have evicted Russian troops from a string of towns and villages in the southern Kherson province and the eastern separatist strongholds of Luhansk and Donetsk.
On Tuesday, Ukrainian President Volodymyr Zelenskyy said his country's forces were making "rapid and powerful" gains and had retaken "dozens" of villages in the east and south.
The latest battlefield maps from Moscow showed that Russian troops had left many areas in Kherson, including along the west bank of the Dnipro River.
In Kharkiv, the maps indicated that Russian forces had almost entirely abandoned the east bank of the Oskil river, potentially giving the Ukrainians space to shell key Russian troop transportation and supply corridors.
The myth of a nuclear power
Russia's nuclear capabilities are exaggerated, analysts of nuclear arsenals point out.
"This Poseidon torpedo that Russia boasts of is not even a torpedo but a mini- submarine," said Ivan Kirichevsky of Kyiv, a military analyst with Defence Express, a consulting firm. "It can't reach high speed. As soon as they launch this torpedo and it heads towards America, it will be easily detected."
Recent unsubstantiated reports suggested that Russia plans to test the nuclear-capable torpedo, which can purportedly can travel thousands of kilometres under water.
"It is a very primitive weapon. Put simply, 'braggadocio'," said Kirichevsky.
Russia's arsenal is mainly obsolete missiles and warheads, he added.
"According to documents, Russia is believed to have about 6,000 nuclear warheads," he said. "We have to deduct roughly 1,500, because they are old and have served their time. They are listed on paper, but they are not fit for a nuclear war."
"For example, the stated service life of Topol, Topl-M and Yars ballistic missiles is up to 15 years. They were produced in the 1990s and 2000s ... most of these missiles have already come to the end of their service life. And when launched, they may fall on Russia."
"The last nuclear test in Russia was in 1996. What is the state of the nuclear weapons? That is the big question," said Snegiryov of Just Cause.
Russia could end up dropping a nuclear warhead on itself, he said.
"This is no joke -- this could really happen," he said. "Their tanks stall on Red Square during parades. When you look at situations like that, you realise that Russian nuclear weapons are a threat not to the world but primarily to Russia itself."