HELMAND -- After an extended period of homelessness, 100 families from Helmand now have roofs over their heads, thanks to assistance from the United Nations High Commissioner for Refugees (UNHCR).
Their houses, in the Bolan area of the provincial capital Lashkargah, were destroyed during the war.
Each UNHCR-constructed home has two bedrooms, a kitchen, a bathroom and a separate toilet and is constructed according to modern standards and material.
Building houses, hope
The Afghan Community and Health Rehabilitation Organisation (ACHRO) is implementing the project.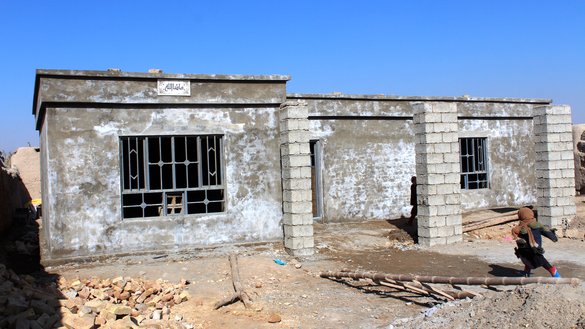 Construction started in October and 95% of the work is now completed, according to Abdul Wali Safi, ACHRO director in Helmand.
Each house costs $3,700 to build and the overall budget for the project, provided by the UNHCR, is $370,000 (33 million AFN).
"Houses in the Bolan area were destroyed during the war in recent years, leaving locals without shelter," Safi said January 17.
"Work on the first phase of the project, which includes the construction of 100 houses, is almost complete and will be handed over to the beneficiaries in a few days."
"In the second phase of the project, we plan to build more houses in Lashkargah city in the near future, as well as in some districts such as Sangin and Nahr-e-Saraj," he said.
"Our objective is to build shelters for the war-torn and impoverished residents and give them hope for life."
These houses are resistant to natural disasters such as earthquakes and floods, Safi added.
A new life
Sayed Ahmad, 52, who has a family of eight, said a newly constructed house has given him and his family a new life.
"Not having shelter is very difficult. My family had to wander from place to place after my house was destroyed [in the war], and we had to live in my cousin's old house," he said.
"We are very happy now that we have a new house, constructed according to [engineering] standards," he added.
"We are counting the seconds to move to our new house. Only a little work is left, which will be finished in a few days," he said. "We will happily move to our new house once the weather gets a little warmer."
Sayed Ahmad said he could have never imagine owning such a house and has realised one of his life's greatest dreams, thanks to the UNHCR's assistance.
Sediqullah, 45, a father of seven, said the new houses are much better and more resilient than the residents' previous homes.
"My house was destroyed around three years ago in the war and was no longer livable," he said.
"Since then, we had been living in our neighbour's old house. Living there was very difficult. Rainwater would leak inside during the winter."
"If the aid agency had not constructed my house, I could have never afforded to build it," Sediqullah said.
"I cannot even afford to buy a simple door," he said. "I am very happy with this house as my family does not have to live in the mud in an old house anymore."
Sediqullah said there are many other residents who lack shelter because their houses were destroyed by natural disasters or war, and he is hopeful that aid agencies will build homes for the affected families.
"Fighting was intense in our area in the past, which destroyed our houses," said Abdul Wali, 35, another recipient of a UNHCR-funded shelter. "I had to relocate to the next village, but now that I have a house, I am moving back together with my family."
"I could not construct my house because of economic problems," he said. "Now I am a homeowner, thanks to the aid agencies. My children won't be shelterless from now on and won't have to live in other people's houses."
Abdul Wali said that every time he looks at his new house, he feels more hopeful for the future.
Need for international aid
More than 6,000 houses have been destroyed by wars and natural disasters in the province, according to Helmand's Department of Refugees and Repatriations.
Bashir Ahmad, 38, a resident of Nad-e-Ali district, Helmand province, said he suffers from poverty and hunger and cannot reconstruct his destroyed house.
"My house was close to a security post, which was destroyed in a car bombing, destroying our lives with it," he said. "It has been four years since then."
"In addition to the destruction of the house, my two children, my wife and I were injured as well."
Bashir Ahmad said he and his family had to relocate to Lashkargah city because of lack of housing and economic problems.
"We live in a very small house among internally displaced persons in the city. If my house in the Nad-e-Ali district is reconstructed, I will not stay here for another second."
The residents of the camp depend on assistance from aid agencies and they would not have anything to eat if support were not provided, Bashir Ahmad said.
Abdul Rahim, 47, a resident of the Washir district of Helmand, said a flood destroyed his mud house two years ago and that he has not been able to reconstruct it.
"I don't even have 100 AFN [$1.12] to build a shelter for myself. I spent a couple of months with my family in a tent but then started living in a small house that used to be a fodder storage," he said.
"Six people live in a room," Abdul Rahim said. "It is very difficult to live this way."
"If aid agencies support us and build shelter for us, it will ease my and my family's life," he said. "Our current life is really difficult."