KABUL -- The number of children suffering from severe malnutrition has increased to an unprecedented level in Afghanistan from extreme poverty and unemployment, international aid agencies warn.
According to the United Nations Children's Fund (UNICEF), the agency treated 70,000 malnourished children in August and 46,000 in July.
"My heart drops every month when I see the total number of severe [sic] malnourished children in Afghanistan," Melanie Galvin, chief of nutrition for UNICEF Afghanistan, tweeted September 6.
UNICEF is reaching more malnourished children than ever before, she said.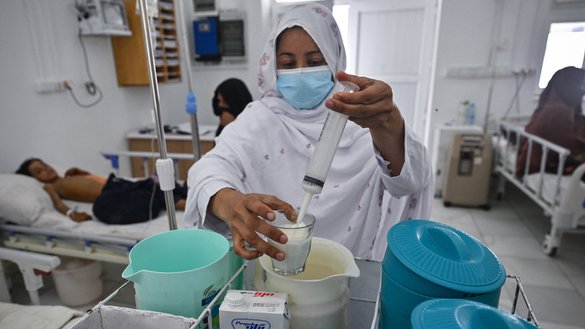 The numbers are staggering compared to last year.
In June 2021, UNICEF treated 30,000 children for severe acute malnutrition in Afghanistan, but in June 2022, about 57,000 children received treatment -- a 90% increase, Galvin said in early August.
Between August 2021 and the end of August 2022, UNICEF Afghanistan treated a total of 458,000 children for severe malnutrition.
"We are concerned that one million children are suffering severe acute malnutrition this year and without immediate treatment, they could lose their lives," said Samantha Mort, spokesperson for UNICEF Afghanistan.
"While the economy is on the brink of collapse, unemployment is high, disasters such as earthquakes, droughts and floods destroy livelihoods, and the majority of the population live under the poverty line, and families struggle to feed their children," she said.
About 18.9 million people, or almost half of Afghanistan's population, will face severe food insecurity between June and November 2022, according to the Integrated Food Security Phase Classification.
According to the World Food Programme's June report, 92% of Afghans cannot find sufficient food, while households spend 90% of their income on food.
Inadequate nutrition
Fatima, the mother of a two-year-old who is hospitalised in Kabul, said her daughter might have died without treatment.
"My husband had a small store but had to close it since there was no business and he lost money," she said.
"My husband now works as a daily labourer, and since he makes very little money, [breakfast, lunch and dinner] are usually tea and dry bread," she said.
"Doctors said that my child is malnourished due to lack of proper food."
Jan Mohammad, 30, a resident of Faryab province, brought his son to a private hospital in Kabul to treat his malnutrition.
"The doctor told me that my son might die unless I hospitalise him and start his treatment," he said.
"If the acute malnutrition is severe and the patients have symptoms such as shock, they will be hospitalised," said Hamayoun Ludin, a doctor in Kabul.
"But if the acute malnutrition is severe without symptoms, then they are asked to make weekly visits, and mothers are provided with free food supplied to clinics and hospitals by UNICEF," he said.
Barriers to treatment include limited hospital facilities in the provinces and many families' inability to afford transportation costs, Ludin said. Families sometimes act slowly to seek treatment because they lack of awareness of the symptoms of malnutrition.
Rescue efforts
UNICEF held the largest humanitarian assistance call in the organisation's history last December, which raised $2 billion in pledges, but the organisation has received only 40% of the pledges so far, said Mort, the UNICEF Afghanistan official.
"We have avoided a serious crisis ... in some parts of the country since we accelerated our efforts to identify, stop and treat acute malnutrition," she said.
Identifying children most in need is key, Mort said. In June alone, UNICEF identified almost 1.2 million children aged 6 months to under 5 years.
"The identification was done by both mobile health and nutrition teams and 2,390 health clinics across the country," she said.
UNICEF has trained 6,000 health workers in the management of severe malnutrition and distributed nutritious food to millions of children in schools in co-ordination with other UN agencies such as the World Food Programme, Mort said.
It has supported 171 mobile teams to help children across all 34 provinces, she added.
In the first half of 2022, UNICEF distributed cash assistance to 730,000 Afghans, and plans to distribute another $208 million to more than a million Afghans by the end of the calendar year, she said.