HERAT -- Doctors Without Borders (MSF) has been working to save Afghan children suffering from malnutrition and deadly diseases as families continue to deal with extreme poverty in the country's west.
MSF has treated more than 100,000 children at the paediatric ward at Herat Regional Hospital over the past six months, including some 20,000 child patients in June, the organisation said.
Some 5,132 of the 20,000 sick children were admitted to the emergency room, and 400 were admitted to the intensive care unit, according to Dr. Jafit Nyonzima, director of the MSF-supported paediatric ward.
The admitted children were suffering from malnutrition, measles, diarrhoea and seasonal infections, he added.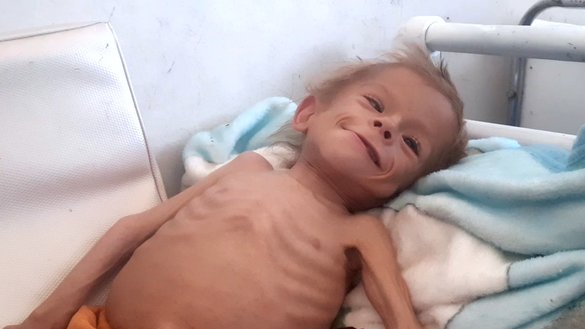 Doctors treated 374 children suffering from malnutrition -- including 140 who were hospitalised -- and another 740 infected with measles in June, said Nyonzima.
MSF also offers care to pregnant Afghan women.
As many as 600 malnourished pregnant women, most of whom were internally displaced persons (IDPs), were cared for in Herat in June.
The rate of child mortality has decreased by 80% in light of MSF's aid, said Nyonzima.
Malnourished children
In recent weeks, a photo of Reza Gul, a six-year-old girl from Ghor province, has become a symbol of poverty and hunger among Afghans.
Gul, who comes from an extremely impoverished family and was admitted to Ghor provincial hospital in Chagcharan for chronic malnutrition, had become so weak and fragile that she could no longer talk or walk.
Her grandmother Zar Gul said she could not afford to feed her grandchild. Reza Gul's father was killed while fighting in Tolak district, Ghor province, two years ago, and her mother is critically ill.
"We did not have anything to give to my grandchild. When she fell sick, we did not have money to take her to the doctor. When we realised that there was no hope for her survival, we brought her to [Ghor provincial] hospital," Zar Gul said.
"I have seven grandchildren, all of whom are frail and thin. We cannot even find a piece of bread for ourselves, and we sleep hungry many nights," she added.
Thousands of other children in the western region of Afghanistan suffer from hunger and malnutrition.
Fatima, who lives in Shindand district, Herat province, and is the mother of five-month-old Mohammad Qasim, said she was malnourished during her pregnancy because of economic constraints, and her child was born very weak.
Mohammad was hospitalised in the paediatric ward of Herat Regional Hospital for 10 days, she said July 3.
Her child was very frail and could not breathe when she brought him to the hospital, but he is recovering, she said.
"My husband used to work, but he has been jobless for the past several months. We cannot afford to buy meat or fruits. My four other children are also thin and weak," Fatima said.
"We have never experienced this level of poverty in our lives ... we were better off. However, now that he [her husband] is jobless, we have no income," she said.
Malnutrition on the rise
The number of children suffering from malnutrition is increasing in the western region, reports say.
The number of malnourished children under MSF treatment was 200 in May, according to MSF, but it raised that number to 374 in June. Almost 80% of them are Herat residents.
The MSF-supported paediatric ward at Herat Regional Hospital has only 80 beds.
Poverty and hunger have affected most children, said Dr. Khalid Zahid, a paediatrician at the MSF-supported paediatric ward.
"When a pregnant mother does not eat nutritious food, her child becomes very weak ... the mother loses weight from poor health and weakness, and the baby is born very weak," he said.
"A malnourished child is very vulnerable to diseases. Unfortunately, many die every year after contracting illnesses such as diarrhoea and pneumonia," Zahid said.
More than 90% of malnourished children admitted to the hospital are from extremely poor families, said Dr. Fawzia Azizi, another paediatrician at the MSF-supported paediatric ward in Herat city.
"The number of malnourished children was very low last year, but it has significantly increased this year and the number is increasing by the day," she added.
"Many malnourished children are brought to the hospital in critical condition. Health services provided by the MSF have saved many lives. All medications, milk and food are given to the children for free," she said.