KABUL -- The number of children admitted to Save the Children's mobile health clinics with severe malnutrition has increased by 47% since January, the aid organisation said.
A number of infants have died in clinics before receiving treatment.
"Demand for malnutrition treatment services has surged in recent months as families struggle to cope with Afghanistan's worst hunger crisis on record," Save the Children said in a statement October 31.
"In January, Save the Children's 57 mobile health teams admitted about 2,500 malnourished children for treatment. By September, that number had jumped to around 4,270 children," the statement said.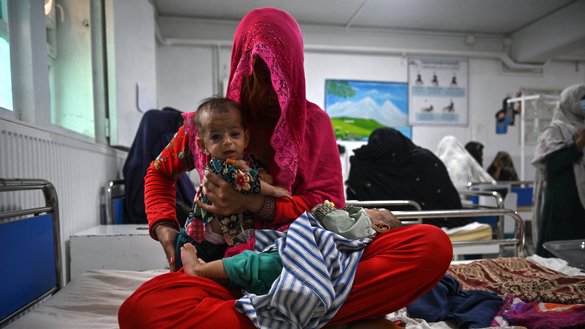 The summer harvest failed to help the situation, as the ongoing drought led to failed crops and reduced harvests, with many rural families forced to sell land and livestock to buy food to feed their children, it said.
Further, the collapse of the country's economy has caused unemployment, poverty and food prices to skyrocket.
"Many families [are] now only surviving on bread and water for weeks at a time," the statement said.
"Humanitarian organisations have provided vast amounts of life-saving food, but the needs are so high that 50% of Afghanistan's population is still facing extreme hunger, with ... 6 million children and adults -- nearly one-eighth of the population -- one step away from famine," Save the Children said.
Since September 2021, the aid organisation has reached more than 3.3 million people, including 1.8 million children. It currently has 66 mobile health clinics across various provinces in Afghanistan that provide nutrition support services to dangerously malnourished children.
But more aid is needed to meet the demands of the crisis.
"We are planning to expand our mobile services in addition to establishing permanent health clinics to provide nutrition support to more Afghan children," Ashiqullah Mandozai, spokesperson for Save the Children in Afghanistan, told Salaam Times.
Causes of malnutrition
Poverty has increased to an unprecedented degree in Afghanistan since August 2021, and 90% of households do not have sufficient food to eat, according to United Nations organisations.
There are several main factors impacting children's malnutrition, said Dr. Mohammad Salem Mayar, a specialist in internal medicine and pediatrics in Kabul.
For example, if mothers do not eat nutritious food during their pregnancy, their children might be born malnourished, he said.
In addition, some infectious diseases can cause malnutrition, he said.
"Data indicate that 80% of households do not give sufficient and nutritious food to their children," Mayar said. "In most cases, they are not aware of the malnutrition symptoms, so they do not take precautionary preventive measures."
Poverty and hunger in Afghanistan have exacerbated malnutrition among children, he added.
"There are as many as 1,300 health centres across Afghanistan's 34 provinces to treat malnutrition among children," said Dr. Homayoun Ludin, a senior advisor with Management Sciences for Health, a US-based nongovernmental organisation.
"We are closely co-ordinating our efforts with various international organisations," he said.
"With funding support from the World Bank and donor countries, over 390,000 malnourished children have received treatment from January through September from international organisations such as UNICEF [United Nations Children's Fund], Save the Children, Action Against Hunger, the Swedish Committee [for Afghanistan], ADA [Afghan Development Association], and Aga Khan Health Service," Ludin said.
These organisations have recruited more than 2,000 health workers, including physicians and nurses, and many have been deployed to Afghanistan's various provinces, to serve as advisers on nutrition.
"In addition to treating malnourished children, they advise mothers on the best approaches to prevent their children from becoming malnourished," Ludin said.
"As many as 200 mobile health clinics have been established to provide support for malnourished children across the country," he said.
"In total, 600,000 children are expected to be treated for malnutrition with support from international organisations by the end of 2022," he added.
Need for further assistance
Mothers whose children are malnourished due to poverty and the country's ongoing economic problems have urged aid organisations to continue providing lifesaving assistance.
Halima, a mother of seven from Logar province, brought one of her sons to the Children's Hospital in Kabul on October 31.
She said he has been suffering from malnutrition for seven months.
"My husband is unemployed and we are poor," she said. "We cannot afford to take our child to a private hospital. We demand more help."
Qandi Gul, of Parwan province, brought her three-month-old malnourished granddaughter to the Children's Hospital in Kabul the same day.
"My son is unemployed and his wife did not have access to nutritious food during her pregnancy, so my granddaughter was born malnourished," she said.
The infant is now receiving free treatment in the hospital.
"Our people are very poor, and cannot afford to buy nutritious food, so our children suffer from stunted growth," Qandi Gul said, calling on donor organisations to provide additional support.