KABUL -- At least 70 people have died in a wave of freezing temperatures sweeping Afghanistan, officials said Wednesday (January 18), as extreme weather compounds a humanitarian crisis in the poverty-stricken nation.
Since January 10, the temperature has plunged in Kabul and several other provinces, with the central region of Ghor recording the lowest reading of -33 celsius over the weekend.
"This winter is by far the coldest in recent years," Mohammad Nasim Muradi, the head of Afghanistan's meteorology office, told AFP.
In the countryside, homeless families were seen warding off the cold by huddling around campfires, whilst in the snowy capital domestic coal heaters were fired up by the more fortunate.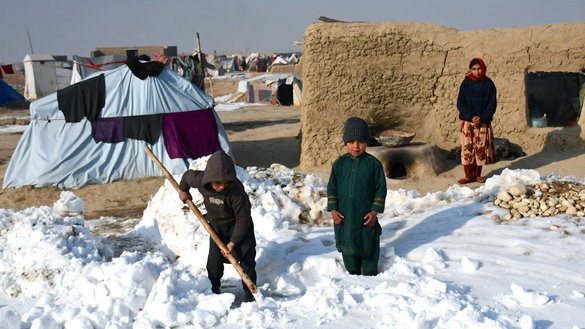 "We expect the cold wave to continue for another week or more," said Muradi.
The Ministry of Disaster Management said 70 people and 70,000 cattle -- a vital commodity in poorer sectors of Afghan society -- died over the past eight days.
Several central and northern provinces saw roads blocked by heavy snowfall, according to images posted on social media.
Hunger crisis
The recent cold has exacerbated an already spiraling humanitarian crisis.
Half of Afghanistan's 38 million people are hungry and three million children at risk of malnutrition.
The number of children admitted to Save the Children's mobile health clinics with severe malnutrition has increased by 47% since January, the aid organisation said in a statement in October.
"Demand for malnutrition treatment services has surged in recent months as families struggle to cope with Afghanistan's worst hunger crisis on record."
"In January, Save the Children's 57 mobile health teams admitted about 2,500 malnourished children for treatment. By September, that number had jumped to around 4,270 children," the statement said.
"Many families [are] now only surviving on bread and water for weeks at a time," it added.
"Humanitarian organisations have provided vast amounts of life-saving food, but the needs are so high that 50% of Afghanistan's population is still facing extreme hunger, with ... 6 million children and adults -- nearly one-eighth of the population -- one step away from famine," Save the Children said.