ADEN -- Muslims across the Middle East reacted with rage to the burning of a Qur'an during a January 22 protest near Türkiye's embassy in Stockholm, blaming Sweden and "the West" for violating Islam and offending followers of the faith.
But the real culprit is almost certainly Russia, analysts say.
Why?
Backlash in Muslim-majority Türkiye was largely responsible for derailing Sweden's bid to join NATO, for one thing -- playing directly into the hands of the Kremlin, which seeks to stop the bloc's expansion as it carries out its war.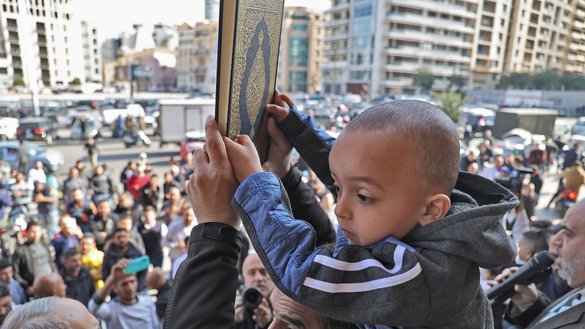 Fueling anti-Western sentiment across the Middle East is another move that supports Russia's agenda, as the Kremlin seeks to spread its influence in the region and shore up support amid its ongoing and unprovoked war on Ukraine.
So what happened?
According to Vice news and other media outlets, journalist Chang Frick -- who has worked for Russian Television (RT) and other outlets that peddle the Kremlin's propaganda -- paid the demonstration fee for the Stockholm event.
Danish far-right activist Rasmus Paludan, who set fire to a Qur'an at the event, told Swedish journalists that Frick also had suggested burning Islam's holy book.
Swedish Prime Minister Ulf Kristersson swiftly condemned the Qur'an burning as "deeply disrespectful", and Swedish police on Wednesday (February 8) denied permission for another protest involving the burning of a Qur'an.
"It can be hard to determine if someone is working with Russia because they're a troll or if Russia itself is directing the troll," a NATO security official told Vice.
"It could be [Frick] is just some far right creep who likes burning Qur'ans. Or it could be a Russian intelligence operation. But either way, it's helping Russia to see NATO members in conflict," the source said.
"Plausible deniability has been the trademark of many Russian hybrid actions worldwide," the Euractiv media outlet said.
"Russia has every motivation to prevent Sweden from acceding to NATO," it said.
"Moreover, it has a vested interest in fueling anti-Western sentiments."
An act of provocation
Anti-Western sentiments were in evidence across the Middle East and beyond following the Stockholm incident, with protests held in Türkiye, Yemen, Lebanon, Syria, Iraq and Iran as well as in Muslim-majority Indonesia.
In Sanaa and other Yemeni cities, protesters raised banners condemning the burning of the Qur'an as provocative of Muslims' feelings and sanctities.
Yemen's government condemned the incident, with the foreign ministry describing the burning of the Qur'an as "a deliberate vile act and a stark provocation of Muslims' feelings".
It expressed its "firm rejection of attacks on religious sensibilities of all" and of hate speech, warning that "the consequences of this act will fuel enmity and divisions in societies".
"This is an act that is condemned by all, and the angry protests in Sanaa and other cities are a normal popular reaction," political analyst Faisal Ahmed told Al-Mashareq.
Russia was probably involved in the incident, even if indirectly, he said.
"The man who paid for the permit to hold the protest outside the Turkish Embassy in the Swedish capital, Chang Frick, is closely linked to Moscow and Russian President Vladimir Putin," Ahmed said.
"Frick has close ties to Russia's RT for which he worked as a correspondent, and he seemed to be trying to serve Russia's goal of preventing Sweden from joining NATO," he added -- noting that Frick appears to have succeeded in this goal.
He said Frick is responsible even if he only paid for the protest permit but did not ask anyone to burn the Qur'an, as the permit would necessitate monitoring the slogans that would be used to ensure they did not veer off course.
Burning Islam's holy book is "a hostile act that touches Muslims' nerves", Ahmed said.
This sensitivity makes it easy for malign actors "to manipulate Muslims' feelings and minds to implement political agendas" in service of Russia's agenda, he said.
'Russia is ridiculing Muslims'
"Protests aren't enough to express rejection of the burning of the Qur'an," economist Abdul Aziz Thabet told Al-Mashareq.
Some protesters in the Middle East have called for the boycott of Swedish products "as an economic weapon which will have a positive impact", he said.
But Sweden is probably not to blame.
Thabet noted that Finland's foreign minister Pekka Haavisto said Russia may have been involved in the Qur'an-burning to impede Sweden's accession to NATO.
"The Finnish foreign minister's statements didn't come from nowhere but were based on evidence and clues that are being probed to prove Paludan's ties to Russia," Thabet said, in reference to the Danish activist who set fire to the Qur'an.
A confirmation of Russia's involvement in the incident would prove that "Russia is ridiculing Muslims and their holy book for trivial political ends", he said.