HERAT -- The angry protests that erupted earlier this week in Herat and Baghlan provinces show that Afghans have little patience for Moscow's ongoing efforts to interfere in Afghanistan, interviews with protestors show.
Hundreds of protestors on May 4 accused Moscow of providing ongoing political and military support to terrorist groups, especially the Taliban, and condemned comments attributed to Russian Presidential Envoy for Afghanistan Zamir Kabulov.
Russia could send troops to Afghanistan to fight terrorism if the Afghan government requested it, Kabulov said in an interview with Russia's Federal News Agency on March 3.
For that to happen, it is necessary to wait for the results of the inter-Afghan dialogue and the formation of a coalition government that will represent the interests of all Afghans, he said.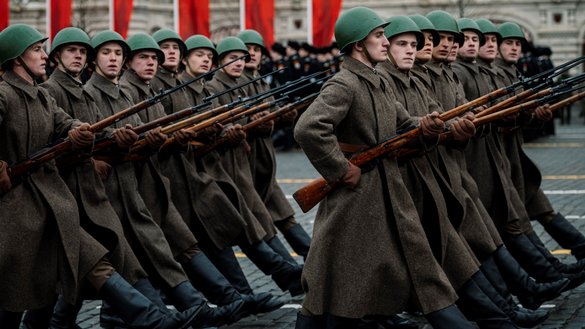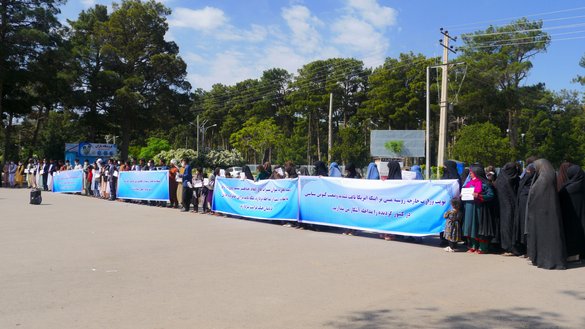 "We do not impose our good offices, but when we are asked politely, we are ready to do so," Kabulov said in his interview with the Federal News Agency, which has been linked to the Internet Research Agency "troll factory" in Saint Petersburg.
Kabulov's remarks sparked outrage among Afghans, but it is not clear why the protests took place two months later.
The Russian Foreign Ministry was quick to deny the interview ever took place, calling it "distortion" and "absolutely false" even though Kabulov's statements are still seen on local and Kremlin-backed media outlets, including Sputnik, and Tehran-based Afghan Voice Agency.
Condemnation of Russian interference
Many Afghans, still angry with Russia for the Soviet invasion at the end of 1979, expressed resentment at the notion that Russian combat troops could return.
"Russia killed and disabled millions of Afghans and forced them to leave their country during their occupation of Afghanistan," said Feroz Ahmad Behzad, a resident of Herat city who participated in the protest on May 4. "When we read history, we see that Russians committed unforgivable crimes in our country."
"We, the residents of Herat, condemn Kabulov's comment, and we will not allow [Russia] to send a single soldier to Afghanistan," he said.
Behzad and other protesters accused Russia of financially supporting and equipping the Taliban, a group that has slaughtered countless civilians in its almost 20-year fight against the Afghan government.
"In addition to Russia, Iran is involved in equipping and supporting the Taliban, and we want both of these countries to stop supporting the terrorists," he said.
"We Afghans call on the UN [United Nations] and UN Security Council to put pressure on Russia to provide compensation to the Afghan people," he added.
Although the Kremlin is the main reason behind Afghanistan's 40-year-long war, it still has not ceased meddling in the country as it overtly equips and supports the Taliban, said Shabir Bakhtyar, a resident of Herat city.
"The former Soviet Union left Afghanistan [in 1989] with shame and humiliation after being defeated, but Kabulov has blatantly spoken of deploying Russian forces to Afghanistan," he said. "These statements of Russian authorities show their clear interference in Afghanistan's internal affairs, which we condemn."
Afghans have bitter memories of Russians because Soviet soldiers murdered hundreds of thousands of Afghans and ruined the country's infrastructure, he said.
More than 100 residents of Baghlan Province also condemned Russian meddling in Afghanistan's internal affairs.
"We don't want Russian soldiers to enter Afghanistan and make the lives of Afghans miserable again," Naveed Shakorzada, a resident of Baghlan Province, told reporters on May 4.
"Unfortunately, Russia is involved in Afghanistan's internal wars," he said. "We expect them to stop interfering in Afghanistan. As our grandparents defeated them in the past [through war], they will be defeated in politics this time too."
Ramiz Noori, a Baghlan resident who participated in the protest, accused Russia of supporting the Taliban.
"The Taliban continue fighting in Afghanistan because Russia supports them," he said. "Russia has been supporting the Taliban for years, resulting in the killing of our people."
Moscow, Tehran supporting the Taliban
If Russian troops return to Afghanistan, Afghans will see a new and cruel war, said Sayed Ashraf Sadaat, a civil society activist in Herat city.
"Russians and Iranians jointly arm and finance the Taliban in Afghanistan," he said.
"There are very close relations among the Taliban, Russians and Iranians, and these two countries openly support the Taliban," Sadaat said. "In the absence of these countries' support, the Taliban won't even have anything to eat."
The Kremlin intends to have a stake in the politics and future of Afghanistan, and it achieves this goal through the Taliban, he said.
"The recent statements of Russian authorities are [examples of] their obvious meddling in internal Afghan matters, which will lead to tensions and war."
The Russian and Iranian regimes provide weapons and finances to the Taliban so they can fight against the interests of the United States in Afghanistan, because these countries are not able to face the United States directly, said Safiullah Yaran, a resident of Herat city.
"We call on these countries to support peace in our country instead of promoting terrorism," he said.
History will not forget the destructive interference of Moscow and Tehran in Afghanistan's internal matters, said Malang Shah Haidari, a civil society activist in Herat city.
"The support of these countries for the Taliban has allowed the group to commit crimes in Afghanistan on a daily basis and kill dozens of civilians and security personnel in the country every day," he said.
"We expect the international community to prevent Russia and Iran's interference because these countries are the main perpetrators behind the war and bloodshed suffered by innocent civilians," Haidari said.
Compensating the families of war victims
Families of victims of the Soviet invasion of Afghanistan are calling on Russia to compensate them for their losses.
"When I was a child, my father and uncle were killed," said Nafisa Danish, a resident of Herat city. "We couldn't even see [their] bodies ... because [the Soviets] had buried them alive."
"Russians took my dad from me and left us with no guardian," she said. "We cannot forget the scar Russians have left in our hearts, and we feel that pain every day."
"We call on the UN and other international organisations to investigate the crimes of Russians in Afghanistan and ask them to compensate us," she said.
"Russians caused growth and development in Afghanistan to stagnate," said Abdul Qader Kamel, a political affairs analyst in Herat city. "They scattered mines everywhere in the country."
"Russians are responsible for their brutality, and they have to be held accountable," he said.
[Hedayatullah from Kunduz contributed to this report.]