PUL-E-KHUMRI -- Since four women founded the Khorasan Food and Handicrafts Production Centre in January, the Baghlan province enterprise has created employment opportunities for 190 female cooks and artisans.
The centre, which produces and sells all kinds of food, was established so that vulnerable women can leave their homes and work to earn a living, according to deputy director Atefa Sadaat.
Doing so allows them to escape the psychological strain of being confined at home as well as to earn money for their families, she said.
"We produce and sell all kinds of cake, cookies and confections such as mithai [candy], sweets, jam and dairy products," Sadaat said. "We also produce pickles, chakni, manto, curry, soup, burgers and beans, among other items."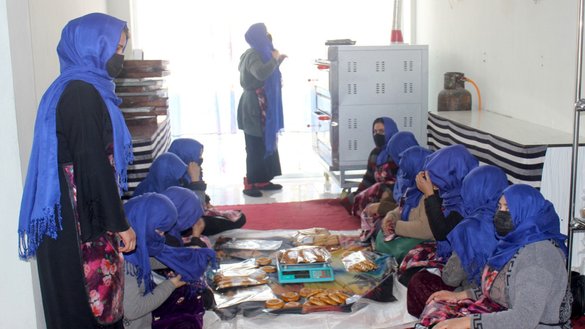 "There are 40 women working in the production of sweets and the preparation and marketing of food products," she said.
Women are fully capable members of society and will never stop fighting the restrictions imposed against them, she added.
The centre has opened a new handicraft section that employs as many as 150 women.
"We have trained the women already, and they are now engaged in knitting all kinds of women's clothes, sewing, embroidery and shawl weaving," said handicraft section director Laila Kazemi.
"Most women who work here are very poor and facing economic problems," she said, adding that the centre can help them provide for their families.
"It also will help address their concerns and worries about the future," she said.
Escaping home confinement
Pul-e-Khumri resident Habiba Samadi used to teach at a school in Baghlan but lost her job.
"I have a bachelor's degree from Baghlan University's faculty of education," she said. "Instead of teaching future generations, especially girls, I have no other choice but to come here and sew."
However, she said, under the current circumstances she is happy to be able to leave her home and work.
Samadi said she sews women's clothes at the centre "so I can feed my children".
"It is a tragedy that women are confined in their homes and cannot go out," she said, stressing, "Women are talented and capable, same as men, and can contribute to the development of society."
"In the current situation where men cannot find jobs, women should not stay at home and remain idle watching their children starve," she said. "They should consider working and participating in different professions."
Shekeba Mohammadi, who is her family's sole breadwinner, said she is earning enough each month producing candy, cake and cookies to feed her five children.
"If I stay at home and don't work, my children will starve," she said, pointing out that confining women at home and prohibiting them from working will only deepen the ongoing economic crisis and further the cycle of poverty.
Supporting households' economy
"I am very happy that I can provide employment opportunities for many fellow sisters," said Zarghoona Azimi, who runs the centre's restaurant. "They can stand on their own two feet and are no longer a burden to their family."
"Fortunately, our customers are increasing day by day," she said. "It is a safe place for women, especially families. They can come here, whenever they wish, and eat all kinds of delicious food."
If the centre can find a suitable market for its products, she said, "we are sure that we can create more employment opportunities for other fellow sisters in the coming months".
Local authorities are trying to create jobs for women in various sectors, said Baghlan provincial government spokesman Assadullah Mustafa Hashemi.
"Baghlan is no different from other provinces in Afghanistan," he said. "There also are job opportunities for women here."
"Not long ago, we held a three-day exhibition to showcase women's handicrafts, and our efforts will continue," he added.
"We are looking into the possibility of establishing a market dedicated to woman entrepreneurs so that they can conveniently sell their products in a secure environment," Hashemi said.