KUNDUZ -- The World Health Organisation (WHO) has opened a 50-bed hospital in Kunduz province to improve access to emergency health services and infectious disease care in Afghanistan's four northeastern provinces.
The one-storey hospital was built in nine months using modern construction materials, Najibullah Sahel, director of the Kunduz Department of Public Health, said at an inauguration ceremony last Thursday (May 4).
"Fortunately, today we are inaugurating and opening the 50-bed infectious disease and COVID-19 hospital in the city of Kunduz," he said.
The Aga Khan Development Network (AKDN) is operating the hospital, which will address the medical needs of residents of Baghlan, Kunduz, Takhar and Badakhshan provinces, Sahel said.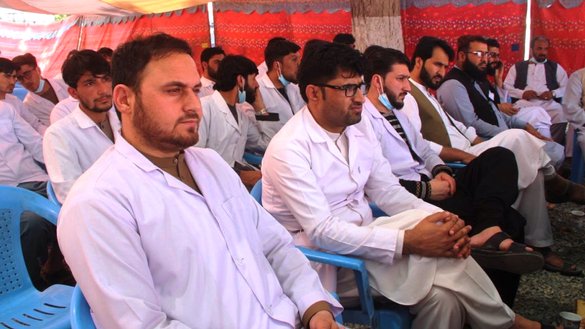 Sahel did not provide any details about the cost of the project but emphasised that residents of the four northeastern provinces no longer will have to bring patients to Kabul or abroad for treatment.
"Given the challenges that residents of the northeastern province face in getting their patients to Kabul for treatment ... we decided to build this hospital," he said. "Urgent, infectious and COVID-19 patients will be treated at this hospital."
The hospital can potentially expand to 100 beds in emergencies and has units for arthroscopy, laparoscopy, paediatric orthopaedic services and pathology, among other specialties, according to Sahel.
"Fortunately, there is sufficient medical equipment available at the hospital to treat patients and all medical services are provided for free," he added.
Providing critical health services
The risk of infectious diseases increases as the weather gets hotter, making such health facilities a necessity, according to Qais Nazari, 38, a resident of Kunduz province.
"Every summer the situation becomes very worrying when the temperature reaches 50°C, since more [Afghans] -- especially children and the elderly -- face higher risks of contracting infectious diseases such as cholera, diarrhoea, typhus and stomach cramps," said Nazari.
"For years residents of the northeastern provinces took their patients to Kabul or Mazar-e-Sharif for medical purposes because they lacked [local] medical centres," said Abdul Wakil Saeedi, 35, a resident of Takhar province.
"Patients sometimes would lose their lives on the road from the long distance and bad road conditions," he said.
"Our [local population] is poor and cannot afford paying family members' costs for transportation to and medical care in Kabul and other provinces," he added.
"Therefore, the establishment of this medical centre by the United Nations is a very important step in reducing mortality rates and controlling diseases."
Mohammad Omar, 47, a resident of Kunduz, expressed relief over having a well equipped hospital close to home that is open 24 hours a day.
"There was a hospital in our province in the past, but the number of patients was too high," he said. "Urgent and infectious patients could not get due attention, and therefore we had to travel for hours to get our patients to Kabul."
"In case of an emergency in the past, we faced so many problems getting our patients to a hospital," he said. "Now, with this hospital, we have access to health services day and night."