LAGHMAN -- Residents of Laghman Province soon will see tangible results of the government's military operations to oust the Taliban, including the construction of irrigation and energy projects, local officials say.
Afghan National Defence and Security Forces (ANDSF) launched operations in Alishang District on April 24 to clear the Taliban from the area. So far, 40 villages that were previously under militant control have been cleared, Laghman Provincial Governor Asif Nang said at a news conference April 30.
"Twenty-three militants were killed and 12 others severely injured, while one was arrested during the spring clearing operations," he said.
"The purpose of our operations is to clear and search the area, establish check-posts on a number of strategic points and widen the security areas for the upcoming elections so that the people of Laghman, and especially those of Alishang District, can participate in the upcoming elections and elect their representatives," Col. Mohammad Yusuf Niazi, commander of the 1st Infantry Division of the Afghan National Army, told reporters.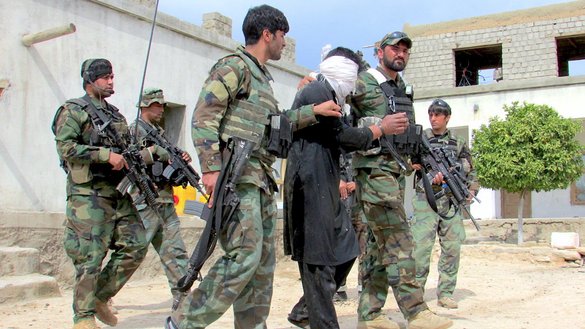 The Taliban remain present in some mountainous areas, but these areas will be cleared soon, he added.
Afghanistan is scheduled to hold parliamentary elections October 20.
New dike, power plant to be implemented
With the Taliban driven out of the area, the local government has pledged to implement a number of much needed and long awaited infrastructure projects.
"Now the conditions are better here, and the pledges to carry out new projects will not remain only as pledges; instead, they will be implemented," Nang said. "Projects will be implemented for the farmers here, and I will do whatever I can to meet the needs of schools, health centres and other sectors."
There was no loss of life or property among ANDSF or civilians during the military's operation, he said, promising that "if any families were displaced, the provincial administration will fully provide them with humanitarian assistance and if anyone's house has been damaged, we will help them".
"The projects that the public really wants are the building of a dike and a power plant," Sarhadi Zwak, spokesman for the Laghman provincial governor, told Salaam Times. "We have sent a proposal to the Ministry of Energy and Water."
"The dike project will irrigate thousands of jeribs of land and provide the possibility of implementing another project that will produce 10 to 15MW of electricity," he said.
"[Afghans] also have asked for some other projects in the field of education, agriculture and health care, and we are working on finding the resources and trying to see how soon can we start them," he added.
Fighting the enemies of Afghanistan
Nang called on residents to help the ANDSF fight the enemies of Afghanistan. He urged residents to support the government, take their tazkiras (national identification cards) and register to vote.
"As long as these rebellious, insurgent and misled persons are not dealt with and we do not provide security, no progress can take place," Nang said. "We are committed to crushing this rebellious and insurgent enemy in order to ensure the security of the nation."
Laghman Province residents welcomed the governor's news and his calls for the public to support the government's quest for security and development.
"The Taliban were here before, and all of our areas were under their control," Rahimullah Laghman, 32, a resident of Sharam Village, Alishang District, told Salaam Times. "However, things are good now that the government has come here."
Rahimullah expressed hope that the promised development projects will come to fruition.
"No [development] projects have been implemented here over the past 16 years," he said. "First, we hope that permanent [security] posts will be established here and, second, that various projects will be initiated here as our area is very deprived."
Saif-ur-Rahman, 26, a resident of Islamabad Village, said the Taliban's harsh rule prevented residents from being able to work and earn a living.
"It is good that now the government came here; it should bring reconstruction projects to our areas," he told Salaam Times.