NANGARHAR -- Members of the Afghan National Security and Defence Forces (ANDSF) have launched clearance operations in Alishang District, Laghman Province, ahead of the planned presidential election scheduled for July 20.
Afghan authorities say the joint operations, launched on January 12, are spearheaded by the Afghan National Army (ANA), National Directorate of Security (NDS) and Afghan police and will continue until those forces have cleared the district of Taliban militants.
"We have embarked on these operations to protect the local population from the Taliban's atrocities and to ensure better security for the upcoming election," Maj. Gen. Mohammad Yusuf Niazi, commander of the 1st Infantry Division of the ANA, told reporters in Alishang District during a January 14 press conference.
"We will either kill our enemies or root them out from this area... we will, with God's grace, clear this and more districts of the Taliban, and bring security," he said.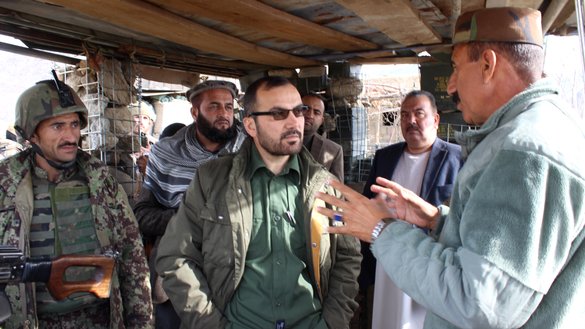 The Taliban have suffered many casualties thus far, and Afghan forces have been successful, Col. Mohammad Haroon Yousafzai, a spokesman for the 201st Silab Corps of the ANA, told Salaam Times.
"The operations have so far killed at least 25 Taliban fighters and many others have been injured," said Yousafzai. "Security forces have also taken back more than 20 villages during these operations."
Maintaining security
"Once these operations are over and the areas become secure, we will create checkpoints of national and local police to ensure long-term security," Gen. Abdul Razaq Uruzgani, the provincial security chief for Laghman Province, told reporters.
If Afghan forces do not create checkpoints, the Taliban militants are likely to return and oppress civilians, he said.
"We have asked higher authorities to provide resources to local uprising groups, who will maintain security in these areas together with the security forces," he noted. "We promise to keep the areas secure after clearing them."
Uruzgani called on civilians to help the local authorities and the security forces in their efforts.
"These operations are the right thing, which will help cleanse these areas [of the Taliban]," Rahmatullah Hamed, a 43-year-old resident of Alishang District, told Salaam Times.
"Fighting has been a daily affair here," Nazar Mohammad, 28, another resident of Alishang District, told Salaam Times. "The Taliban used to search civilians physically on the roads, and we lived under oppression and fear."
Mohammad recalled how the Taliban effectively made local residents prisoners in their own homes at sunset because they feared persecution or worse outdoors once day gave way to night.
"It was a strange situation, but we had to tolerate it," he told Salaam Times. "If authorities create more security checkpoints, our roads will become safer and residents will live without fear."
Elections are must
"Elections are essential," Laghman Provincial Governor Asif Nang told a gathering in Alishang on January 15. "We cannot live without a government."
The on-going operations will help prepare the security situation for the July elections and improve local security, enabling the government to implement public projects, said Nang.
The government has plans for education, public health, irrigation and electricity projects once the operations end, Nang noted.
"We will work on various other useful projects for your area," Nang told the gathering of local residents. "The local residents should promise to continue to stand with the security forces."
He told the crowd to place its confidence in the security forces and be proud of them as they achieve security for the public and the country.
"The people have to make sacrifices, and soldiers have already made sacrifices for all of us," he added.