KABUL -- Officials in Farah Province say there is evidence that Iran was involved in the Taliban's recent attack on their provincial capital, in yet another example of Iranian meddling in Afghanistan's internal affairs.
Afghan commandos and coalition air strikes Wednesday (May 16) pushed the Taliban out of Farah city after a day-long battle to prevent the insurgents from seizing the provincial capital.
Weapons supplied by Iran
"The Iranian-backed Taliban was planning on capturing Farah Province," Jamila Amini, a member of the provincial council, told Salaam Times. "The Taliban's attack was futile, thanks to the operations carried out by Afghan National Defence and Security Forces and air forces of [NATO's] Resolute Support Mission."
"Iranian generals and forces are involved in the fighting in Farah," she said. "For instance, weapons come from Iran to Afghanistan to be delivered to the Taliban."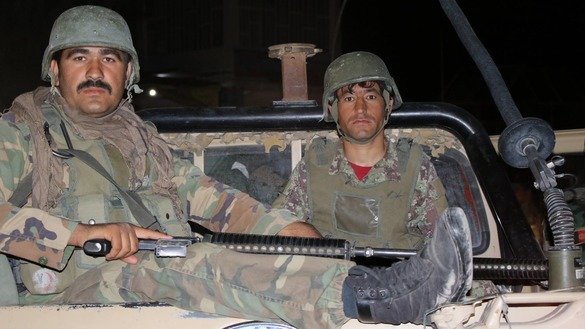 "The Taliban, who have already had modern weapons, are now equipped with sophisticated Iranian-made land mines, which they use to... destroy bridges, culverts and other targets," Amini said.
"The Resolute Support Mission's air strikes were extremely effective in ... defeating the Taliban, as a result of which 300 to 400 Taliban militants were killed," she said.
Amini called on coalition forces to deploy to Farah Province "in order to prevent any future Taliban attack".
Farah provincial police chief Fazl Ahmad Sherzad confirmed Iran's complicity in the Taliban's recent assault on Farah.
"Iran provides the Taliban with complete logistical and financial support and is directly involved in creating insecurity in Farah Province," he said in a news conference May 16. "Farah Province is of great importance for Iran, and that country benefits immensely from chaos and insecurity in this province."
Interfering in Afghanistan's affairs
"Iran is interfering in Afghanistan's internal affairs," said Samiullah Samim, a representative from Farah Province in the Wolesi Jirga (lower house of parliament).
"Had it not been for the assistance they receive from their supporters -- who happen to be neighbours of Afghanistan -- the Taliban would not have been able to carry out such a large scale attack in Farah with such advanced weaponry and military equipment," he told Salaam Times Thursday (May 17). "They enjoyed strong backing from their supporters yesterday."
"An Iranian citizen was recently arrested ... and is being detained by the National Directorate of Security in Kabul," he said.
"Afghan intelligence officials must disclose the interference of neighbouring countries in Afghanistan's internal affairs, and especially in Farah, based on the cases they have witnessed and the documents they have in their possession," Samim said.
Strong criticism for Iranian, Russian meddling
"Now both Iran and Russia support the Taliban," Fazl Hadi Muslimyar, speaker of the Meshrano Jirga (upper house of parliament), said Tuesday (May 15) during the chamber's general assembly.
"The Taliban has become an Iranian and Russian militia, fighting our government on the orders it receives from those countries," he said.
First Deputy Afghan National Army Chief of Staff Lt. Gen. Abdul Hameed Hameed also criticised Iran's policies towards Afghanistan in a ceremony marking the graduation of 700 commandos in Kabul.
"One of the factors behind the continuation of war in Afghanistan is meddling by neighbouring countries," he said in remarks April 25.
"Iran has begun such interference in order to create insecurity in our homeland," he said, adding, "Iran tries to benefit from our water and mineral resources by disrupting security in Afghanistan."
"They deserve every negative adjective that I may use to describe them," he said of Iranian leaders. "Our security and defence forces, however, will not allow them to [interfere]."