JALALABAD -- Insurgents loyal to the "Islamic State of Iraq and Syria" (ISIS) terrorist group are surrendering continually to authorities in Nangarhar Province after Afghan forces conducted a series of operations against the group with support from local civilians.
Local officials presented 15 ISIS militants to the media Sunday (November 18). They had been active in Nazian District and had waged war against the government for the past few years.
"Fifteen ISIS fighters joined the peace process and handed over their weapons and ordnance to the Afghan forces after they came under pressure or grasped reality," Ataullah Khogyani, a spokesman for the Nangarhar provincial governor, told reporters at the National Directorate of Security (NDS) facility in Jalalabad.
"They will live as ordinary Afghans after this and will not feel any kind of fear or problems," he said.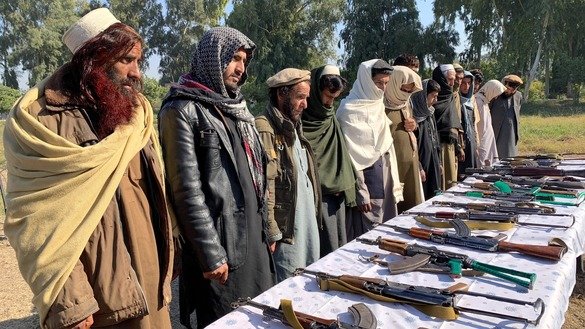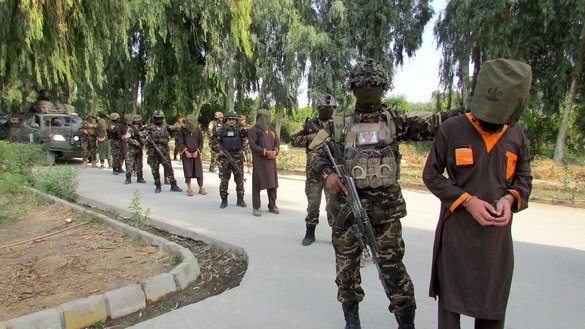 "A few days ago, nine foreign Daesh fighters also joined the peace process, but we cannot show them to the press right now as we want to transfer these foreign fighters to the NDS headquarters [in Kabul] to determine their fate," Khogyani said, using another name for ISIS.
Authorities will decide whether to show these surrendered foreign fighters to the press in Kabul or in Nangarhar, he added.
'Released from a prison'
The surrendered ISIS fighters liken joining the peace process to being released from prison.
Herat Khan, 55, a former ISIS commander in Nangarhar, said he began fighting for the Taliban and then fought with ISIS for over two years.
"When they unleashed their harsh cruelties on the public, that disheartened me and I left," said Khan, who is originally from Nazian District.
"I feel as if I have been released from a prison," he told Salaam Times. "I was in the mountains and disconnected from the world for years. Now I want to live an ordinary life, find a job and live happily with my children."
"We thought this was an Islamic caliphate, but we later realised that they were all foreigners and it was a different game," said Bang Gul, 35, another member of the group who joined the peace process.
"They used to kill our elderly and slaughter our children," he told Salaam Times. "We saw everything with our own eyes, but we could not tell them anything because if we did, they would kill us too. This kept us silent."
"In the end, we could not tolerate it any further and had to come and join the peace process to live our lives," he added.
"The Almighty Allah says that there is a blessing in peace," religious scholar Mawlawi Habibullah Jalalabadi told the former militants.
"If you or your friends continue to fight, you cannot win. You will have to make peace after all," he said while addressing the reconciled militants. "So, you have to work harder to encourage other fighters to join the peace process."
In the past five months, up to 215 ISIS and Taliban fighters have renounced violence and joined the peace process in Nangarhar, according to local NDS officials in the province.
On Monday (November 19), local officials presented another group of 11 ISIS fighters to the media at the provincial NDS compound in Jalalabad.
The militants were arrested during various operations over the past week and included two would-be suicide bombers, local officials told reporters.