HERAT -- Afghan security forces have intensified efforts to prevent the Taliban's drug trafficking in western Afghanistan, netting dozens of suspected smugglers and stopping hundreds of kilogrammes of drugs from being distributed in recent months.
In one recent example, security forces on June 23 seized a truckload of drugs that originated in Bala Murghab District of Badghis Province, said Col. Gulbuddin Alokozai, commander of the 705th Border Force Regiment based in Herat Province.
The truck was heading to the Taliban's drug processing facilities in Bakhwa District of Farah Province, Alokozai said.
"Three Taliban vehicles were escorting a truckload of drugs on the Herat-Torghundi Highway, but they fell prey to our ambush," he said. "After a short skirmish, we were able to seize 720kg of drugs and a minivan from the enemy."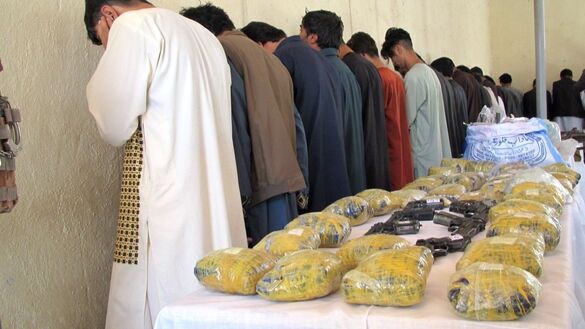 "[Opium] poppy is cultivated in insecure areas that are under the Taliban's control," he said. "A large circle of smugglers from neighbouring countries, drug cartels and the Taliban are involved in drug trafficking in those areas."
Police in Herat Province have arrested at least 120 suspects in connection with charges of smuggling drugs over the past three months, according to Abdul Ahad Walizada, a spokesperson for Herat Police.
Police presented 17 of them to media on June 25 at Herat Police headquarters.
Tainted drug money
One reason the Taliban continue fighting is to destabilise areas so they can earn illicit money from drug trafficking, security officials say.
"All the cultivation of drugs is taking place in insecure areas where the Taliban are in control," said Sayed Aqa Zia, spokesperson for the 207th Zafar Corps of the Afghan National Army. "Most of their financial needs are satisfied with income from drug production and trafficking."
Afghan National Defence and Security Forces (ANDSF) with support from NATO's Resolute Support forces have targeted the Taliban's drug transport routes and their drug processing facilities, he said.
"Everywhere we launched operations and seized ammunition and explosives, we witnessed drugs as well," said Herat Provincial Police Chief Gen. Aminullah Amarkhil.
The Taliban collect "ushr" on the drugs cultivated in areas under their control, which is strictly prohibited in Islam, he said.
"We treat the issue very strictly, and we have had considerable achievements in cracking down on drugs," said Amarkhil.
"Drugs are a big business in Afghanistan, and all the criminal groups including the Taliban are involved in its trafficking," he said.
International drug networks
International drug networks have created a partnership with the Taliban to traffic drugs through Afghanistan, political analysts in Herat say.
"The Taliban and their supporters have chosen Herat and the western region as a ... conduit for trafficking drugs to Iran and then from Iran to European and American countries," said Abdul Qader Kamel, a political affairs analyst in Herat.
"One of the consumers of drugs is Iran, and a number of Iranian citizens who work in the western region [of Afghanistan] as drivers and businesspeople are involved in drug trafficking," he said.
"Several times we have witnessed trucks loaded with chemicals used in processing drugs such as heroin being smuggled into the western region of Afghanistan, which were then detected and seized by the security forces," Kamel said.
"There is no doubt that global drug networks and regional countries -- especially Iran -- are involved in trafficking drugs and smuggling of drug precursor chemicals into the western region of Afghanistan with the intention of providing them to the Taliban," he said.
"Drugs are one of the Taliban's financial resources in addition to the support they receive from neighbouring and regional countries," said Noor Ahmad Haidari, a member of the Herat Provincial Council.
"It has been noticed many times that the Taliban in Herat have persuaded farmers to grow poppies on their land, which later they collect and ship off to neighbouring countries," he said.
"When a neighbouring country supports the Taliban and provides them with financial resources, it is obvious that they can provide the opportunity for the Taliban to earn even bigger profits from processing and trafficking drugs," Haidari said.