HERAT -- The circulation of a video on social media showing the torture of a 16-year-old Afghan boy in Iran has sparked the anger of Afghans as well as consternation from the government, which is calling the incident a crime against humanity.
The video shows the wounded teenager tied up and lying on the floor.
Dozens of civil society activists and Kabul residents gathered on October 6 in front of the Iranian embassy to condemn the torture and called on the Iranian government to prosecute the perpetrators.
Iranian authorities confirmed the boy was tortured on the island of Qeshm, according to the Afghan Foreign Ministry. The date of the incident has not been determined yet.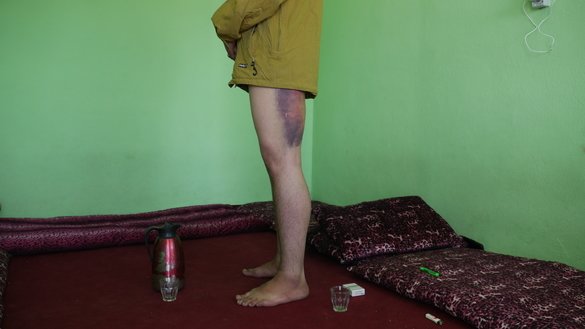 The Foreign Ministry is following up on the matter, said Sebghatullah Ahmadi, an official at the ministry, adding that it has been in touch with the Afghan embassy in Tehran and the Afghan consulate in Zahedan Province, Iran.
Victim's fate unknown
"Iranian authorities told our political representatives that the young person is under treatment, but when our people asked to see him, the Iranian authorities then said they had deported the youngster," said Ahmadi.
"We want clarification from Iran on what date and from which border the young person was deported to Afghanistan so that we can ensure he is alive, but the Iranian authorities have yet to give us a positive response," he added.
"The Iranians have told us that he was being treated, but we're not sure," Ahmadi added. "The Foreign Ministry is looking seriously at this case."
Abdul Basit Ansari, a communication adviser for the Afghan Ministry of Refugees and Repatriations, said that his office has "received reports that the young person has lost his life after being tortured, and this news has shocked the ministry."
"This incident is not acceptable to the government of Afghanistan, and its perpetrators must be punished," he added.
"We have memoranda of understanding with Iran, based on which Afghan citizens should not be tortured on Iranian territory, and they shouldn't be threatened or denied their rights," Ansari said. "These acts are a clear breach of international refugee laws; they're inhumane and violate humanitarian laws -- therefore, we condemn them."
Regardless of whether the torture was committed by an Iranian soldier or an ordinary citizen, the government of Iran should arrest the perpetrators, said Ansari.
"Iran is responsible -- as our neighbour and based on the memoranda of understanding we have previously signed with it -- for supporting the rights of Afghan refugees in the country," he said.
"More than 1.5 million Afghan refugees live in Iran... we, unfortunately, see that our refugees are abused in Iran," Ansari said.
Continuation of crimes against humanity
The teenager's torture follows a string of other violent acts carried out against Afghans in Iran.
On April 3, two Afghan refugees were killed and 18 other wounded -- including women and children -- after being shot by Iranian troops in Zahedan Province after allegedly illegally entering the country from Afghanistan.
Last December, a video circulated showing Iranian border guards violently abusing and humiliating Afghan immigrants, which also evoked sharp criticism and public outrage among Afghans.
Muhammad Ali Baqir Ashoura, who recently was deported from Iran and now lives in a United Nations refugee camp in Herat, said he bears the signs of violent treatment from Iranian soldiers.
"When I was on my way to Afghanistan, they made illegal demands of me, but when I rejected them, they brutally beat me up and my body has now turned black and blue," he said. "They harass and harm all the refugees, especially those who don't comply with the orders of Iranian soldiers."
The Afghanistan Independent Human Rights Commission calls the beating, torture and killing of Afghan refugees in Iran a crime against humanity.
"The Afghanistan Independent Human Rights Commission considers the torture of this young person in Iran a human rights violation, and we strongly condemn this act," said Shukrullah Mashkoor, a spokesperson for the organisation.
The youth's torture obviously violates the Convention on the Rights of the Child and Convention Against Torture, he said.
"This is not the only case," Mashkoor added. "Several times Afghan citizens have been tortured in similar incidents in Iran, and their rights have been violated."
Racism against Afghan refugees in Iran
The Iranian Ministry of Public Health has also stoked the ire of Afghans after it asked Iranians to stay away from Afghan and Pakistani pilgrims during Arbaeen, saying they carry microbes that could spread.
The observance involves making a pilgrimage to Karbala, Iraq, with many travelling through or from Iran.
Many Afghans labelled the Iranian warning as racist, and some Afghans who intended to participate in Arbaeen say that the Iranian government has banned them from making the journey.
Muhammad Ali, a resident of Ghazni Province who intended to travel to Karbala and had entered Iranian territory, said that Iranian soldiers barred him from continuing his journey and instead deported him to Afghanistan.
"The government of Iran has told its citizens to stay away from Afghans because they, the Afghans, are sick and filthy," Ali said.
"When the Iranian soldiers arrested me, they asked me for my passport and I told them that I have an Afghan passport," he added. "[I told them that] I had flown in and that I wanted to go on a journey to Karbala for one month, but they handcuffed me and told me that I couldn't go to Karbala."
Mehdi Hussaini, a resident of Baghlan Province, said he also sought to travel to Karbala for Arbaeen but was barred.
"Iranians say that people should stay away from Afghans as they are sick," he said. "They wouldn't say such a thing if they don't hear it from their leaders. They mistreated so greatly in Iran that we felt as if we weren't human beings, and this crushed our spirit."
"This act by the Iranians, especially by the government of Iran, is definitely far from humane, and they gave me a feeling that no humanity is left in this country," he said.
He was "really embarrassed" to belong to the same sect of Islam as his tormentors, he said.
Maulawi Sayed Mohammad Shirzadi, a religious scholar in Herat city, considers supremacy and racism prohibited acts in Islam.
"Those who call themselves Muslims and followers of the religion of Islam and commit racism, they have to know that they have no place in Islam," he said.
Based on the verses of the Koran, all Muslims of the world are brothers with each other, and they have to share their moments of grief and joy, Shirzadi said.