KUNDUZ -- More women are being recruited to join the Kunduz police force as security authorities foresee a growing role for them in ensuring law and order in the region.
An effort to attract women to join the security forces in the province is under way, and once new recruits are brought onboard and receive professional training, these women will serve at police checkpoints, participate in house searches and work in various other security assignments, officials say.
More than 80 women are serving in security forces in Kunduz's capital and districts, said Kunduz Police Chief Brig. Gen. Abdul Rashid Bashir.
"After we brought these women onto the police force, security issues affecting women decreased," he said.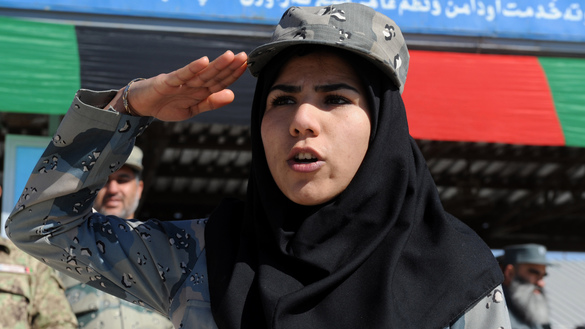 "Women can play a vital role in serving the public," he added. "If we need to search a suspicious home, men may not enter the home, but women can easily do that job," Bashir added.
"We still have a small number of policewomen, and we call on women to strengthen the force by joining the police ranks," he said.
Sgt. Hangama Hazrati, a 14-year veteran of the Kunduz Police and its chief recruiter, said that as a woman, she knows firsthand that women can play an important role in security.
"When we are searching a home, we go inside and search women because men may not do this," she said. "I want families and young women who are interested to contribute to the forming of the national police."
"Now, women and men have equal rights inside the national police force, and women can easily enter and serve in the national police without any discrimination," Hazrati said.
"I enjoy serving as a policewoman, and I am proud of my job," she said. "We have received training, and we know how to defeat the enemies of peace and stability."
The Ministry of Interior plans to send a number of Kunduz policewomen to Turkey to receive professional training, said Bashir, the Kunduz police chief.
"They study there for three months and graduate as officers," he said. "Two months ago, 25 of these cadets returned from Turkey."
The presence of policewomen alongside policemen is important in protecting society, said some women who recently joined the national police.
"I have been interested in this profession for a long time, and fortunately I was able to join the police this year," said Nazia Alizada, an officer in Kunduz.
"I perform my daily duty with a great deal of enthusiasm, and I am proud that I serve alongside my sisters," she said. "The more we train, the better we'll be able to tackle crimes."
An important role
Since Afghanistan is an Islamic and traditional country, it has a pressing need for female police officers who can help with respecting traditions and customs, Kunduz residents say.
"The role of women is very important in the armed forces, public health care, education, higher education and other government institutions," said Abdul Mateen Qayoumi, 55, a tribal elder from Seh Darak, a neighbourhood in Kunduz city.
"I've seen policewomen present when a house is being searched, and having them enables them [the police] to successfully track their target," he said.
Women are playing a growing role in ensuring security in the area, agreed Lt. Mazia Rezayee, a Kunduz police gender officer for community policing.
"We freely enter homes and perform our duties when a fight takes place, and when we need to search houses, make arrests and investigate a rights abuse case, we don't have a problem in doing so," said Rezayee, who has worked for five years at the police department.
"Civilians faced many problems before women began to serve in armed operations, but since we joined the police, civilians' problems have been resolved to a large extent," she said.
Policewomen serve in Kunduz city and outlying districts of Kunduz Province in other security roles, including guarding the gates of government institutions as well as participating in special operations, said Rezayee.
Addressing women's problems
"Police are the first government institution to which victims come for help, but because of the lack of policewomen, women [seeking help] sometimes face problems," said Capt. Jamila Hamidi, an information manager for the 119 police call centre in Kunduz Province.
"I have taken a number of training programmes aimed at eliminating violence against women, addressing complaints and problems -- especially women's problems -- and preventing crimes," said Hamidi.
"My job is in accordance with Islamic teachings," she said. "Our community sometimes faces a problem that only a policewoman can resolve."
"Policewomen should sometimes accompany policemen when they're searching a suspicious house so that they can speak with women [in that house] and encourage them to seek help."