HERAT -- Dozens of women who have lost their family members in the war in Afghanistan gathered in Herat city on Saturday (October 31) to demand an end to the violence and for remembrance of the deceased.
Those killed were either members of security forces or civilians who lost their lives in terrorist attacks over the past few years.
Ruqia, a resident of Shindand District of Herat who uses only her first name, said her husband was killed two years ago in a rocket attack in the district as he was loading bread onto this three-wheel motorcycle.
The Taliban thought he was delivering food to security forces, she said.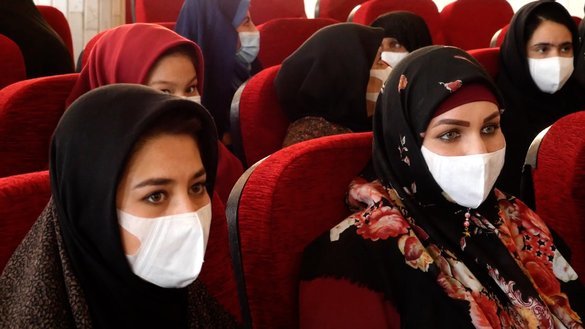 "Since my husband was martyred, I have taken over the responsibility of raising our seven children, and we have been struggling with a lot of poverty and hunger," Ruqia said. "My husband was a daily-wage worker who worked hard to earn us a daily meal, but now we have been left without a breadwinner, and we don't even have food to eat."
"We had to escape to Herat city because of the Taliban's oppression and an increase in violence, and here we don't have money to pay our rent," she added.
"We ask the Taliban to cease this bloodshed and stop orphaning more children and destroying their homes," she said.
"This war [of the Taliban] is not jihad, and they must make peace with the government so that peace and security can come to the country."
Fatema, 55, a resident of Zer-e-Koh District in Herat Province whose two children were killed by the Taliban and who also goes only by her first name, called for an end to the war too.
"I lost two of my sons," she said. "One of my sons was a police officer whom the Taliban took to the mountains where they tortured and killed him. They hid themselves in our home, and my [other] son, who was at home, lost his life during a clash between the Taliban and the security forces."
She said her third son went to Iran because of the Taliban's threats, but the Iranian government jailed him for not having a passport.
Fatema now is responsible for 12 of her grandchildren and three daughters-in-law. They have all been suffering from poverty and hardship, she said.
"We want peace and calm, and we ask the Taliban to renounce violence," she said. "Every family in Zer-e-Koh District has lost three to four of their members, and we are very tired of this war."
Remembering those killed
The family members of those killed demanded at the gathering that the peace talks preserve the rights of war victims.
Negotiations between the Afghan government and the Taliban started in Doha, Qatar, in September, though increasing Taliban violence has been threatening the talks.
Suhaila Shakir, who lost her father and brother in a bombing in Zindajan District of Herat in August, said that she is asking the government not to forget her father.
"We call on the Taliban to use the historic opportunity in front of them and try to reach a peace agreement," she said. "Both parties need to accept each other's demands and tolerate each other so that we create an opportunity for a lasting peace in the country."
"The 40 years of war hasn't brought anything to Afghans other than destruction and killing, and most victims of these conflicts are the innocent people of Afghanistan."
Now is the best opportunity to put an end to the war, and there has been more hope than ever for peace in the country, she said.
Sakina Khalil's husband, an Afghan National Army officer, lost his life two years ago in a clash with the Taliban in Farah Province.
In the peace talks, the government must not forget the sacrifices made by her husband and other soldiers, she said.
"Since my husband was martyred, I have taken over the responsibility for raising my four children," she added. "The stipend we receive from the government satisfies some of our needs. But my main demand is that the blood of my husband is respected and is taken into account in the peace talks."
All families of war victims demand that the bravery of the security forces not be forgotten, and their names must be recorded in history as the defender of Afghanistan in difficult times, she said.
Women's rights: a red line
Women's rights activists and students joined the gathering to demand that women's achievements not be compromised.
In the past 20 years, women in Afghanistan have had many achievements that should never be lost, said Muhadesa Ahmadi, a resident of Herat city.
"Women have achieved their place in society... but the main concern is that women may go backward if the Islamic Emirate is reinstated," she said, referring to Taliban rule.
All Afghan women call on the negotiating parities to not ignore women's role in the country's political future and not to impose their demands on them, she added.
The conservative view of the Taliban toward women's activities is one of the main concerns of Afghan women, and this needs to change during the peace negotiations, said Sakina Hussaini, a member of the Herat Provincial Council.
If the Taliban want to play a role in the country's political future, they have to embrace women's demands, she said.
"We call on the international community and the United Nations to monitor the peace talks in Qatar and not to allow the Taliban to impose their flawed beliefs on Afghan women," she added. "Afghanistan has changed, and no force can prevent Afghan women's growth, work and education."
One of the red lines of the Afghan government in peace negotiations with the Taliban is to preserve the achievements of Afghan women, Munesa Hasanzada, the deputy governor of Herat, told reporters at the gathering.
"Through the efforts of the international community and the Afghan government, Afghan women have had huge achievements in various areas during the past two decades," she added.
"No one can ignore these achievements. In addition to the government, women are taking part in peace negotiations with the Taliban to defend their achievements, and women's role [in society] will never be overlooked."