KUNDUZ -- Residents of Dasht-i-Archi District in Kunduz Province have condemned the Taliban for continuing their campaign of violence while at the same time claiming to be working toward peace.
The Taliban attacked Dasht-i-Archi district centre on Monday (November 16) in an effort to seize government building and facilities, but Afghan National Defence and Security Forces (ANDSF) thwarted their efforts, said Brig. Gen. Mohammad Ali Yazdani, commander of the 217th Pamir Corps based in Kunduz Province.
"Air and ground operations were launched upon the arrival of commandos to the district centre, killing 53 Taliban fighters, including some of their key commanders, and wounding 23 others," he said.
"Fortunately, the Taliban could not seize our military facilities, and our forces were able to defeat them quickly," he said.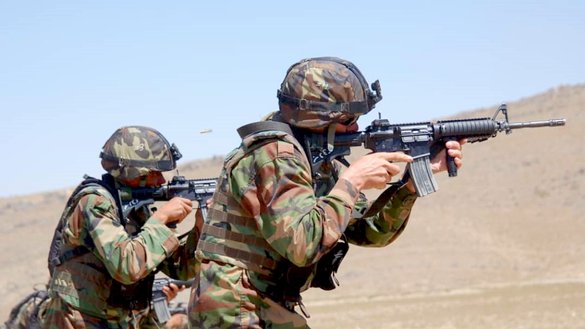 The Taliban intensified violence and fighting this week and security forces have foiled their largest attacks in Khanabad and Imam Sahib districts, Kunduz Province Governor Abdul Sattar Mirzakwal told reporters on Tuesday (November 17).
"As we defeated the Taliban in these two districts, we delivered heavy blows to the Taliban in Dasht-i-Archi District too," he said.
"A sufficient number of troops have been deployed in Dasht-i-Archi District, and I assure the residents of this district that our soldiers are firmly defending positions, facilities and security belts," he said.
Mirzakwal praised the ANDSF for thwarting the Taliban attacks.
Unfulfilled commitments
Afghan government and Taliban negotiators have been meeting in Qatar since September 12 and are attempting to draw up a blueprint for peace in the country.
The Taliban should share their problems and demands with the Afghan government at the negotiation table rather than take out their grudges on innocent civilians, said Ziaullah Kakar, a tribal elder from Dasht-i-Archi.
"The Taliban harm Afghans to discredit the Afghan government," he said. "This attack by the Taliban shows that they have no interest in the peace process or in the people of Afghanistan."
The Taliban destroyed and set on fire security checkpoints in Tadesi, Sheikabad and Nahr-e-Kohna villages when they were in control of those areas, he said.
"Fearing war, around 500 families have been displaced from their homes in this cold winter weather, of which 100 families have moved to Kunduz city while the remaining families have been displaced to Khwaja Ghar District and other villages," Kakar said.
Civilians have reason to fear the fighting, said Sayed Omar Tahiri, a resident of Dasht-i-Archi District centre.
"A man was martyred while three members of his family were injured when a mortar hit a residential house in Kunduz Bandar in Dasht-i-Archi District," he said.
"How long do the Taliban want to sacrifice civilians? There is not a single day when Afghans do not give sacrifices," he said. "What is the point of this negotiation and the release of thousands of prisoners?"
The prisoner exchange between the Afghan government and the Taliban was a pre-requisite for the start of peace talks.
Tahiri called on the Taliban to resolve their issues with the government through dialogue and to allow civilians to live their lives in peace.
Betrayal of the people and the country
The Taliban respect no rules and regulations, and they are killing Afghans and destroying public assets under the name of peace, said Safiullah Amiri, deputy chairman of the Kunduz Provincial Council.
"Shedding the blood of Afghans mean nothing to them," he said.
"I call on the Taliban to wait and stop the violence until the outcome of the peace talks is clear," he said. "Let the peace talks take their course, and see what comes out of it."
Regardless of which party is in control, the Afghan people need public projects, he said. "Therefore, do not destroy them and do not betray your people and country," he urged the Taliban.