KUNDUZ -- Afghan security forces have cleared the Taliban from more than 50 villages in Kunduz Province in a six-week-long joint operation that concluded this month.
Personnel from the Afghan National Army (ANA), National Police, National Directorate of Security and Special Forces took part in the first phase of Operation Pamir 110, which began November 27 and concluded January 8.
The objective of the operation was to strike Taliban insurgents, destroy their hideouts and clear areas where the militants were active, said Kunduz Police Chief Gen. Abdul Rashid Bashir.
"Our joint operation started from insecure areas of Chahar Dara, Imam Sahib, Dasht-e-Archi, Khanabad, Qala-e-Zal, Gul Tipa [districts] and villages of the provincial capital that were under threat," he said.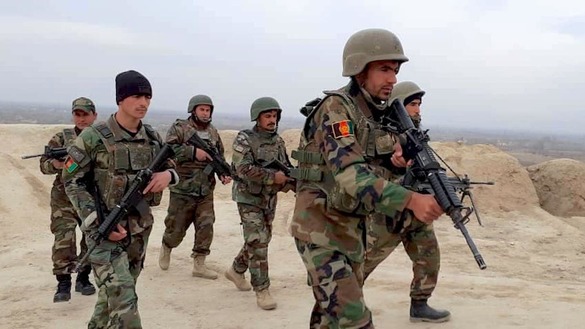 "In the capital city, the villages of Taloka, Asqalan, Alchin, Boz Timori, Konom Ha and Mullah Sardar and the Kunduz-Kabul highway are, for example, some of the [areas] that we cleared of the enemy," he said.
"We killed about 100 Taliban fighters including commanders," Bashir said.
"Among those killed were notorious Taliban commanders such as Qari Momin aka Sayar, Saifullah aka Shamshad, Mansoor aka Abuzar, Omar aka Saeed, Mohammaddin aka Khaksar, Jabar aka Fazel Rahman and Nafez."
"Mullah Rahim aka Hanafi's men -- Hanzala, Qari Wali and Mohammad aka Hafiz -- were killed, and some of Mawlawi Abdul Hamid aka Mutaqi's men were injured," he said. "Some were arrested."
Bashir called the operation "successful".
In addition to inflicting many casualties, Afghan forces seized more than 150 anti-personnel and anti-vehicle mines, various weapons and ammunition, grenades, and 625kg of explosives, he said. They also destroyed a large land mine factory.
Security personnel recovered seven motorcycles, a Humvee, a Suzuki sedan and a Toyota pickup truck, he said.
"We tried to avoid any harm to civilians during the operation," Bashir said.
Tired of the Taliban
Residents of the areas liberated from the Taliban praised the operation.
"This operation was very effective and drove the Taliban out of our villages," said Haji Abdul Halim Tahiri, 55, a resident of Taloka village in Kunduz city.
"The Taliban had made our life hell," he said, describing how the Taliban used civilians' houses to launch attacks on government forces. "They would fire on government forces from our houses on a daily basis. In return, government forces would target our houses."
"The Taliban collected money and food from us by force. They would force our kids to fight for them," he said. "We were so tired of them. It is good that the government came and rid us of them."
The Taliban mined the road from Hazrati Sultan District, Samangan Province, up to Mullah Sardar village on the outskirts of Kunduz city, said Khairuddin Farhadi, a resident of Mullah Sardar.
"Any civilian car taking this road could be blown up," he said.
"There were many Taliban present in those villages," he said. "Civilians faced many problems because of them."
"The government conducted an operation, and now we are at peace," Farhadi said, calling on the government to establish new posts and to deploy more troops in the newly liberated areas to prevent the Taliban from returning.
Maintaining security
The provincial capital and districts of Kunduz Province needed a clearing operation after the Taliban briefly seized parts of Kunduz city in 2016 and 2017, said Brig. Gen. Nabiullah Merzaye, commander of the 217th Pamir Corps of the ANA in Kunduz.
"We eliminated the central [Kunduz] cell of the Taliban during the one-and-a-half-month operation by killing their key personnel," he said. "We destroyed their positions, bases and explosives through air strikes."
"We are committed to establishing new posts in areas cleared of the Taliban to prevent them from returning and establishing their bases here again," he said.
The second phase of the operation started on January 11 in Aqtash District and has so far inflicted heavy casualties on the Taliban, he said.
"Wherever our security forces went to conduct the operation, our people co-operated very well with them," said Mohammad Yusuf Ayubi, chairman of the Kunduz Provincial Council.
"Civilians were keen to see some safety and security as they had witnessed the Taliban's oppression firsthand," he said. "Thanks to this operation, security problems have been resolved to an extent."