HERAT -- Religious scholars, Afghan officials and Badghis and Herat residents gathered Sunday (February 21) to denounce Mujiburrahman Ansari, khatib of Gazar Gah mosque in Herat city, for his criticism of the Afghan government.
During a Friday sermon, Ansari claimed that those working for the Afghan government and those who support it are sinners.
"Those working in the system, whether civilian or military, police or army, or those who support this system have committed a great sin," he said, accusing them of being "part of all the crimes of this government".
Gathering at the Department of Hajj and Religious Affairs in Qala-e-Naw on Sunday, dozens of religious scholars from Badghis province publicly and collectively denounced Ansari's remarks.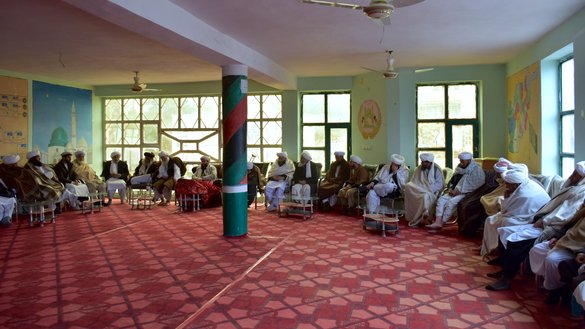 "Mujiburrahman's remarks about security forces are totally rubbish and false," said Maulawi Abdul Basit Sarem, a religious scholar in Qala-e-Naw. "His statement is in contradiction with Sharia."
Ansari is a disgrace, said Maulawi Abdul Latif Sediqi, another religious scholar in Qala-e-Naw.
"Ansari is not a religious scholar, and he is not allowed to issue religious rulings," he said, describing the cleric's actions as irresponsible and un-Islamic.
"Our demand, from the government and the spiritual community of Afghanistan, is to bring Mujiburrahman to justice and punish him," Sediqi said. "He is an extremist who discredits religious scholars and Islam."
'How is this a sin?'
On Monday, more than 500 residents of Herat denounced Ansari's remarks during a gathering at the Hariwa Institute of Higher Education.
"I strongly condemn Mujiburrahman Ansari's remarks about security forces and the Afghan government," said Herat city resident Basira Safa Tahiri.
"Ansari does not have the status of a religious scholar for us, and he has always caused hatred and division," she said.
"Security forces lose blood day and night to protect Afghanistan, doing their job with integrity," she added. "How is this a sin?"
"Mujiburrahman is sitting and doing nothing and receives free food," said Tahiri, referring to gifts of food from admirers or supporters. "He has made an emotional and uninformed judgment about these heroes."
Sarajuddin Shirzai, another Herat city resident, also denounced Ansari's remarks.
"It is not acceptable to us, and we will not allow anyone to come and talk rubbish against the security forces," he said.
"Our security forces have given thousands of martyrs to protect the country," he added. "The blood of the martyred security forces is valuable to us, and we will not allow anyone to talk ill of them."
"We support the Islamic Republic of Afghanistan and our committed security forces," Shirzai said. "We will always stand with our security forces and support them wherever needed."
Ties to foreign powers
Afghan officials who spoke to Salaam Times described Ansari as a radical cleric who has ties to foreign intelligence agencies.
His comments are part of an external plot to destabilise Afghanistan, National Security Adviser Hamdullah Mohib said during a Saturday news conference.
Ansari receives support from regional intelligence agencies, and the National Directorate of Security (NDS) has been instructed to investigate the matter, he said.
Ansari will be dealt with in accordance with the law, said NDS chief Ahmad Zia Saraj.
While security forces are giving sacrifices day and night defending Afghanistan, an extremist comes at the behest of outsiders and speaks against these forces, said Herat governor Sayed Wahid Qatali.
Without using his name, Qatali accused Ansari of promoting extremism and supporting the "Islamic State of Iraq and Syria" (ISIS).
"I assure you, the people of Herat, that neither ISIS nor its tyranny is coming," he said. "Unless we are dead, they will not be able to raise their shameful black flags in this city."
"The times are gone when an extremist could come and promote extremist ideas in Herat city," he said. "People are tired of war and terror."
Support for security forces
Security forces are Muslims and sons of Afghanistan, said Maulawi Abdul Halim Sheikh-ul-Islami, who heads the Hajj and Religious Affairs Department in Badghis. "They are the real mujahideen of Afghanistan who protect the values of Islam."
"Our children give sacrifices day and night to protect the people, the country and national honour," he said. "Security forces are the real sons of this country, and all the people must support them."
The Afghan people value the sacrifices that Afghan soldiers make to protect the country, said Yagana Ahmadi, a political science student at a private university in Herat city.
"We defend our security forces as they work day and night so that we can study and live in peace," she said.
"Those who propagandise against security forces are collaborating with the Taliban and [other] enemies. They want to create distance between security forces and the public," she said.
But they will not succeed in this endeavour, she said, as "the public will stand up to them".
"From a Sharia point of view, all religious scholars in Badghis province have expressed the opinion that the police, the National Army and the NDS must be supported," said Maulawi Abdul Wahed Saberi, a religious scholar in Qala-e-Naw.
"We have supported them and will support them in the future, too," he said. "We have always supported our system, because it has legitimacy."