KABUL -- Afghan commando forces seized Iranian-made weapons and explosives, as well as Islamic Revolutionary Guard Corps (IRGC) uniforms, from a Taliban base in Herat province, local security forces say.
The raid on February 23 targeted the Taliban military chief for Herat province, Mullah Tor Jan, in Musakhail village, Adraskan district, near the Iranian border.
Afghan National Army (ANA) commandos destroyed the Taliban base in the aerial and ground operation, but Taliban fighters already had fled the area, a senior security official in Herat told Salaam Times on condition of anonymity.
"Hand grenades, weapons with scopes and explosives made in Iran were seized in the base," the official said. "The Taliban were using these weapons and explosives against security forces and civilians."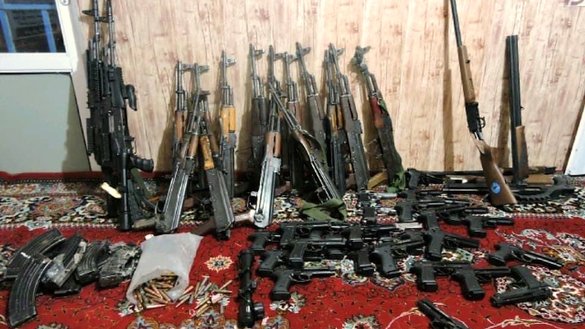 "A number of maps detailing operations targeting military posts, district centres and other parts of Herat province were obtained," he said. "These maps have been seized along with IRGC uniforms and Iranian-made weapons."
The seizure of IRGC uniforms on a Taliban base indicates that members of the Iranian military have come to Herat to help the Taliban, said another senior government official in Herat who asked to remain anonymous.
"Maps show that Taliban operations in Herat province are being planned by the IRGC," he said.
Security forces destroyed this key Taliban base in a mountainous area in Adraskan district after 15 years of activity there by the Taliban, he added.
Iran's support for the Taliban
Iran is directly involved in all destabilising activities the Taliban are committing in the western region, said Abdul Sattar Hussaini, a member of the Wolesi Jirga representing Farah province.
A Wolesi Jirga delegation that assessed the security situation in Herat on January 10 determined that the Iranian government is supporting 22 terrorist groups in the province.
Based on the delegation's findings, these terrorist groups are involved in attacks on security forces, targeted assassinations, abductions and armed robberies.
"The Iranian government supplies weapons and money to the Taliban in the western region [of Afghanistan], and the Taliban attack security forces or destroy infrastructure at the request of the IRGC," Hussaini said.
Iranian weapons supplied to the Taliban have been found in Faryab province in the north and as far east as Ghazni province, he said.
Afghan border forces on January 19 seized a truck carrying 2 tonnes of explosives crossing from Iran into Farah province at the Mil 78 customs border crossing.
The explosives were hidden in sacks of flour and were intended for the Taliban in Bala Buluk district, an official said.
It was the fourth such incident in less than a year. In a similar incident in November, security forces prevented the entry of a truck loaded with explosives hidden in dozens of burlap sacks.
Iran's support for the Taliban is obvious; without it, Afghanistan's western region would not witness such insecurity, said Lal Mohammad Barekzai, a former military officer in Herat.
"In order to have leverage over the Afghan government and United States, Iran supports the Taliban at any cost," he said. "It uses these Taliban militants for its political and military ends whenever it wants."
The Taliban serve as a very cheap fighting force for the Iranian government and will do whatever Iranian authorities order them to do, he said.
'Safe haven for the Taliban'
Tehran's military and political support for the Taliban is widespread and the Iranian regime uses the group to advance its objectives in Afghanistan, said Hasan Hakimi, a civil society activist in Ghor province.
"With IRGC backing, Taliban commanders and militants move freely between Iran and Afghanistan," he said. "The Iranian government [IRGC] also transfers wounded Taliban members to [Iranian] hospitals for treatment."
The IRGC has established several military training centres for the Taliban in provinces bordering Afghanistan and the Taliban regularly undergo terrorist training by the IRGC in these centres, he said.
"One of Iran's main goals in supporting the Taliban is to destroy infrastructure in the western region [of Afghanistan] and to challenge [the] US mission in Afghanistan," he said.
In public statements, the Iranian government claims to be Afghanistan's friend, he said. But behind the scenes, it arms the Taliban to destroy Afghanistan, as it does not want peace and stability in Afghanistan.
Iran has become a safe haven for Taliban leaders and militants and Taliban members can travel easily between Afghanistan and Iran, said Behzad Hussaini, a civil society activist in Herat city.
The Iranian government has provided the Taliban with advanced and deadly weapons and continues its military support to the group, he said.
"All Taliban weapons equipped with scopes used to attack security forces at night, roadside bombs and other advanced weapons are provided by Iran," he said.
Tehran's interference in Afghan affairs and IRGC support for the Taliban have had dire consequences for the security situation in Afghanistan's western region, Hussaini said.
"If the Iranian government's open military interference in the internal affairs of Afghanistan is not stopped, it could have very dangerous consequences for Afghanistan's security, especially in the western region," he said.