ASADABAD -- Religious scholars and imams from Kunar province gathered in Asadabad on Sunday (July 11) to declare their strong support for the Afghan government and security forces, and to condemn the Taliban's ongoing violence.
The scholars and clerics have decided, on the basis of religious teachings and the holy Koran, that the ongoing war waged by the Taliban cannot be classified as 'jihad', said Kunar Ulema Council chairman Mawlawi Zia-ur-rahman Allahyar.
"We have made it clear to the Afghan nation that this unjust war is no more than fratricide," he told the gathering.
Afghan National Defence and Security Forces (ANDSF) personnel are the sons of the Afghan nation and uphold and protect the values of Islam and the motherland, said Kunar Ulema Council deputy chairman Najibullah Haqyar.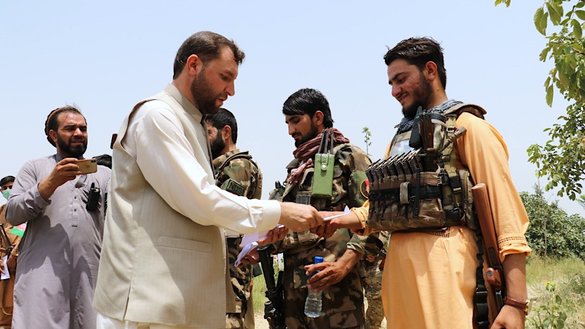 Defending Afghanistan's sovereignty is a shared responsibility, he said, noting that anyone who undermines the legitimate government and destroys the nation is indeed an enemy of the people.
"The Taliban are deliberately burning schools, clinics, police outposts and even public buildings," said Kunar Ulema Council secretary Jamaluddin Sayar.
They have destroyed the nation, he said, stressing that there is no evidence to suggest they intend to build or help develop the country.
No one will win the current war, said Nuristan Hajj and Religious Affairs Department director Mawlawi Mohammad Anwar, who also attended the gathering.
Religious scholars from around the world have condemned the conflict and deemed it illegitimate, because it has no legal or religious basis, he added.
Ousting the Taliban
Nangarhar officials who visited the Zawa area of Khogyani district on July 11 praised Afghan security forces and members of the public uprising movement.
Khogyani district has come under attack by the Taliban on more than 50 occasions in the past four months, local officials said, but the ANDSF have thwarted these attempts.
"The Taliban have not built anything anywhere; they have just learned how to destroy," said Nangarhar governor Ziaulhaq Amarkhail, accusing the insurgents of seeking to bring Afghanistan to ruin.
"Over the past 20 years, they have continued to destroy our infrastructure, which shows their hostility towards our country, people and religion," he said.
Amarkhail praised the local public uprising movement, pointing out that it is comprised of "committed soldiers under the leadership of the ANDSF" who consider protecting their homeland a moral obligation.
Malik Makki, a local leader of the public uprising, sold half a jerib of his land to buy weapons in order to equip his comrades, said Khogyani district governor Mohammad Ayoub Bahar.
"We are proud of our security forces because they spare no effort in defending our country," Bahar told the Sunday gathering.
Khogyani district was once very insecure, with Taliban leaders hiding out in the area, he said. But now, security forces have ousted the militants from local villages and towns.
Protecting the homeland
Afghan National Army (ANA) soldier Mohammad Qasim Rawan, who also spoke at the Sunday gathering, recalled a recent Taliban attack on his outpost.
The Taliban shouted at Rawan and his comrades to surrender, he said, adding that "as a brave Afghan" he had responded that he would never do so.
"My right hand was seriously injured," Rawan said, so he continued the battle with only his left hand. When his friends saw his situation, they doubled their efforts and prevailed in the fight by killing a number of Taliban militants, he said.
During the gathering, flowers were distributed among ANSDF soldiers, and Amarkhail gave cash rewards to dozens of security personnel and members of the public uprising, encouraging them to stand firm.
At the gathering, Malik Maki, tribal elder and commander of Khogyani district's public uprising movement, said, "You see, I am old enough and may die tomorrow, but I will not let down our grandchildren, our sons and the future generation,"
"I am a proud Afghan, and this is my homeland," he added. "It is my right and duty to protect it."