NANGARHAR -- Religious scholars in Kunar and Nangarhar last week declared their support for Afghan forces and denounced what they described as the Taliban's 'sedition'.
As many as 200 religious scholars and madrassa students gathered Saturday (August 7) in Nangarhar to support the Afghan National Defence and Security Forces (ANDSF) with a blood donation campaign.
The real mujahideen
"Our government is an Islamic system, and our soldiers who are fighting right now are the real mujahideen," said Mawlawi Mushtaq Ahmad in a speech at the gathering.
"The Taliban are the slaves of foreigners and are attempting... to destroy Afghanistan and take it back to the 1990s. But we will not allow anyone to do that," he said.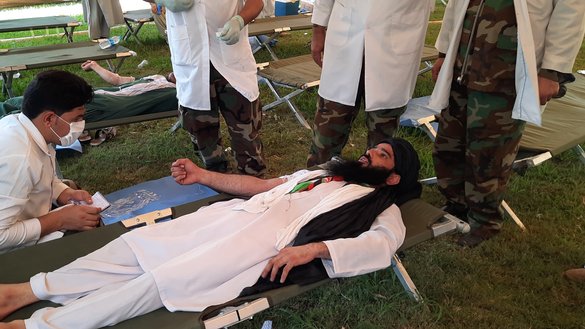 "We will stand beside our security forces and wage jihad against the slaves of foreigners if needed," Ahmad said. "We donated our blood today to these soldiers with great pride, and if needed, we will pick up guns as well."
"Every step you take is jihad against those who destroy Afghanistan and spread sedition in the name of religion," Mawlawi Faraidoon Hanafi, another religious scholar who donated his blood, said in an address to Afghan soldiers present in the gathering.
"As a religious scholar, I assure you that if need be, I will stand with you against these slaves called the Taliban as you are mujahideen and on the right path."
Afghan military officials who attended the gathering expressed gratitude.
Rallies on streets
Last week in Herat, Kabul and other parts of the country, Afghans took to the streets, chanting Allah Akbar (God is great) to show their support for Afghan forces.
"When the calls of Allah Akbar started from Herat and reached Kunar and Nuristan, we were assured that both young and old religious scholars were behind us," said Col. Ajab Gul Safi, director of the Cultural and Religious Affairs Department of the 201st Silab Corps.
"We are now even more convinced since scholars are donating blood to us and support us," he said.
"I am very proud to assure you that the ANDSF will defeat the enemy and save the country from the Khawarij and spies," he said, referring to a group during the first century of Islam that was expelled from the faith because of its subversive activities against Muslims.
"Your forces are defending their land with the utmost honesty and patriotism," Safi added. "We consider this land our mother, and will protect our mother."
Meanwhile, religious scholars from the eastern provinces gathered in Asadabad, the provincial capital of Kunar, last Thursday and rejected fatwas issued by some Pakistani mullahs that had sought to justify the Taliban's war as jihad.
Mawlawi Zia-ur-rahman Allahyar, deputy chairman of the Kunar Ulema Council, said, "Our soldiers who are fighting are Ghazis, and those who are killed are true martyrs because they are defending the country and the people," Allahyar added.
Hijacking Allah Akbar
"We joined the Allah Akbar call, and then the Khawarij Taliban said that Allah Akbar is theirs," said Mawlawi Mohammad Anwar Anwar, another religious scholar.
The Taliban bizarrely are holding even Allah Akbar hostage, said Anwar, adding the call belongs to all Muslims, especially those Muslims who love their country, Anwar said.
"The Taliban are the slaves of foreigners who are destroying their country at the behest of others. Therefore, we cannot call their war a jihad but sedition."
"It is our soldiers who fight them and protect their country," he said.