BADGHIS -- An eight-day-long Taliban assault aimed at taking over Qala-e-Naw, capital of Badghis province, left nothing but devastation and destruction in its wake, local authorities and displaced residents say.
The Taliban launched five major assaults and more than ten smaller assaults on the city starting July 7, Badghis Governor Hesamuddin Shams said July 18.
The Taliban used mortars and heavy weaponry to attack the city over the course of the assault, he said. "Hundreds of houses, shops, hospitals and even mosques were destroyed."
"The Taliban have looted houses and destroyed parts of Qala-e-Naw bazaar," he added.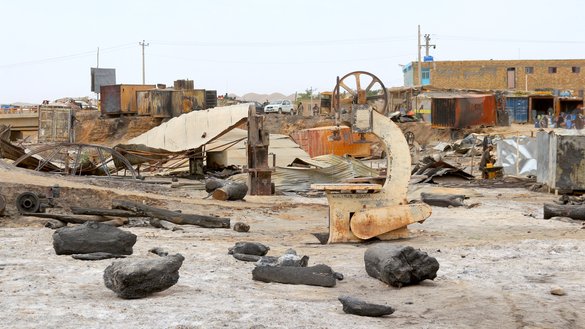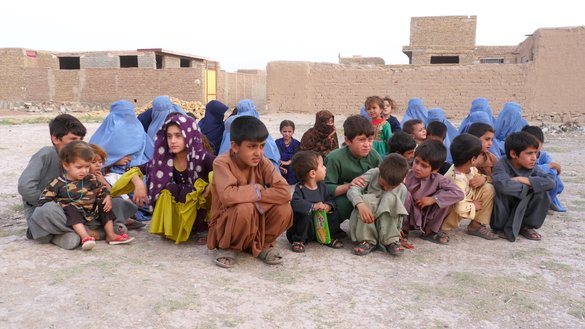 After failing to seize control of the city, the Taliban agreed to an unconditional ceasefire with security forces and retreated from Qala-e-Naw on July 15.
As many as 250 militants were killed and hundreds of others were wounded in the clashes, said Shams.
Four civilians were killed and more than 80 others, including women and children, were wounded during the eight days of fighting, according to the Badghis Provincial Health Directorate.
Taliban ruining lives
The Taliban ruined locals' livelihoods with their attack on Qala-e-Naw city, said Abdul Basir Osmani, a member of the Wolesi Jirga representing Badghis.
The Taliban are a terrorist group whose goal is to create fear and terror among the public, he said, adding that the insurgents forced some civilians out of their houses at night and killed them.
The Taliban would have committed more horrific crimes if the Afghan National Defence and Security Forces (ANDSF) had not defeated them and driven them out of Qala-e-Naw, Osmani said.
During the brief period the Taliban entered parts of Qala-e-Naw, they looted shops, offices and civilians' houses, residents say.
Akhtar Mohammad Ahmadi, director of the Nawid Sehat private hospital in Qala-e-Naw, said the Taliban looted most of the hospital's facilities and blew up other parts of it.
"The five-storey hospital has sustained major damage," he said, adding that although the hospital was treating civilians, the Taliban seized and used it as a base for several days.
The Taliban destroyed the hospital's critical equipment, including computed tomography (CT) scanners and X-ray machines, as well as the laboratory, Ahmadi said.
The militants also took some medical equipment with them, he said.
Aqa Arbab, a civil society activist in Qala-e-Naw, said the Taliban used his office as a base to attack ANDSF.
The Taliban looted 300,000 AFN ($3,700) worth of office equipment including computers and a projector, he said.
The militants also ransacked 25 to 30 shops, most of which sold mobile phones, gold or silver, and no one has been held accountable, he added.
Families displaced
More than 20,000 families were forced to flee to neighbouring provinces, particularly Herat, during the Taliban's attack on Qala-e-Naw.
The Taliban forced many Qala-e-Naw residents to vacate their houses so they could use them as military bases, said Abdul Aziz Baig, chairman of the Badghis Provincial Council.
Many displaced families left Qala-e-Naw with nothing and now are facing difficult conditions, he said.
"After civilians fled Qala-e-Naw, the Taliban looted their houses and shops," he said, adding that it will likely take months for residents to return and resume their normal lives.
As the Taliban intensified their assault on Qala-e-Naw city, many civilians fled for fear of being killed, and when they returned, they saw Taliban fighters had looted their belongings, said Jalil Ahmad Wahidi, a Qala-e-Naw shopkeeper.
"During recent Taliban attacks, our shop caught fire and more than 1 million AFN ($13,000) of our property burned up," he said.
Abdullah, who uses one name, said he and his family fled Bala Murghab district and took refuge in Qala-e-Naw city before being forced to flee again to Herat city.
"Mortar shells hit our houses from everywhere," he said, adding that the Taliban entered their houses and forced them to leave immediately.
Sayed Mohammad Moshwani, a resident of Qala-e-Naw who also was displaced to Herat city, said he and his family were forced to flee when the Taliban attacked their house.
"The Taliban had no mercy on anyone as they fired rockets and burned houses and shops," he said, adding the Taliban have put innocent civilians in a very difficult situation.
"We have nothing left. I do not know how to survive and what to eat," he said.