KABUL -- The Taliban are attempting to seize the homes of Afghans who either live abroad or have fled the country with the intent of leasing it to others without permission, say apartment owners and representatives.
In recent months, the Taliban have been trying to determine which dwellings have been left unoccupied in apartments and makroroyans -- Soviet-era prefabricated concrete residential complexes -- in Kabul.
"Since the Taliban assumed power in Kabul [in August], as many as 20 individuals who claimed to be members of the group have contacted me to provide them with a list of houses in my neighbourhood whose owners are currently not in Afghanistan," a local representative of a makroroyan in Kabul's 9th police district said under the pseudonym Abdullah.
"Because I know most of the residents ... I have so far resisted," he said.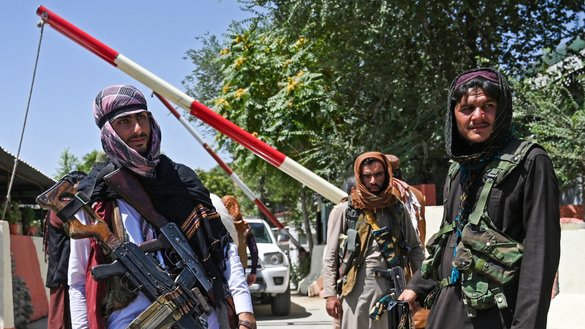 "Whenever the Taliban come to me, I have told them that all the apartment owners are present. Moreover, I have secretly contacted several of the residents who are ... living overseas to make sure they at least send one of their relatives to move in during their absence," he added.
Abdullah said he worries that the Taliban are making these dubious attempts to seize residences and to put their own names on the title.
Mirwais, another makroroyan representative, told Salaam Times under a pseudonym that the Taliban had summoned him and several other property representatives in the area and ordered them to make a list of residences whose owners are abroad.
"Unfortunately, we had no option but to make the list, because if we did not, our lives and those of our family would be in danger," Mirwais said.
Zabihullah Amanyar, who lives in a makroroyan in Kabul, also confirmed that the Taliban have been harassing the representative of his apartment building for a list of apartments and their owners.
"The Taliban are repeating the same approach they had when they were in power last time," aiming to identify the dwelling whose owner is not available and simply to confiscate it, he said.
The Taliban-appointed mayor of Kabul city could not be reached for comment.
Illegal, un-Islamic
The Taliban's efforts to seize the property of those abroad represent interference in Afghans' personal affairs and an illegitimate and un-Islamic move, according to apartment owners in Kabul and legal analysts.
"Following the seizure of Kabul by the Taliban, a large number of Kabul residents who worked with the previous government or the international community fled the country out of fear, and their houses now remain empty," said Sayed Muqadas, the owner of an apartment building in Kabul.
Neighbours have been protecting seven apartments in his building that were left empty, he said, but concerns have increased over Taliban seizures.
Every Afghan citizen has the right to choose whether to live on his or her property or simply to lock it up and reside elsewhere, Muqadas said.
The Taliban's actions have "no legitimate justification based on the law, and moreover sharia law does not allow the confiscation or leasing of someone's property in his or her absence", he said.
The Taliban's efforts clearly violate Afghan laws and human rights, according to Mohammad Mohsin Shuja, a law professor at a private university in Kabul.
"There is no such article ... that allows groups, individuals or even governments to lease someone's property to someone else in the absence of its legitimate owner," Shuja said.
"I am not sure how the Taliban justify their intrusion on someone's private property to remove his belongings and lease out his house to someone else," Dawar added.
Ignoring problems
The Taliban's illicit seizures come as the new government fails to deal with soaring unemployment and an inability to provide services.
Since their return to power in Kabul, the Taliban have been aiming to seize Afghans' land and property instead of solving their challenges and grievances, said Mujibur Rehman Hamidi, who previously worked for an international organisation in Kabul.
"The Taliban have so far usurped several houses because they belonged to the brother of a businessman, to the sister of a parliamentarian, and to the cousin of a former general, even though everyone's property should be protected," Hamidi said.
The Taliban are finding it difficult to deal with looming economic challenges as they continue to suffer from sanctions imposed by the international community, he said.
"For this reason, the Taliban leaders and commanders are trying to navigate other [illegal] ways to make money," he said.