KANDAHAR -- British aid organisation UK Aid Direct has implemented a project in Kandahar province as part of the Work for Food programme, which supports Afghan families in need.
The project, named "Recovery, Reintegration and Resilience", was implemented across Kandahar over the past year. It is continuing in Kandahar and other parts of the country.
Some 4,500 people in Kandahar city and the province's districts have participated in the project, according to UK Aid Direct.
Each participant receives flour, rice, oil, beans and salt in exchange for work. The provisions, which are distributed monthly, are worth $90.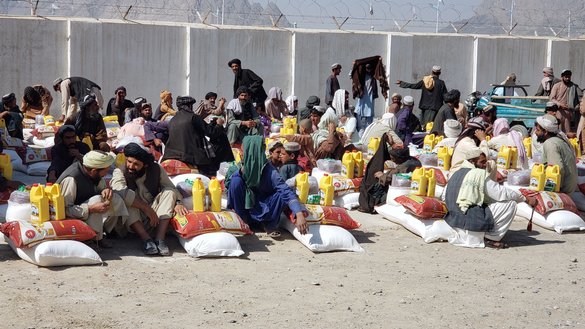 Participants work on building and cleaning canals, and paving and reconstructing roads in return for the monthly food package, the organisation said.
Unemployed individuals, including some refugees deported from neighbouring countries, participate in the project, said Fazel Ur Rahman Sherzad, an official at the Kandahar Department of Refugees and Repatriations.
"The Work for Food programme has been implemented in remote and deprived areas," he said.
"The objective of the programme is to fight poverty and hunger and prevent unemployment."
"Roads and canals had been destroyed in most areas of Kandahar, to the point that they were not even usable," he said. "With the support of the Work for Food programme, these roads and canals have been rehabilitated, improving facilities for locals."
At the peak of the economic challenges and crises, aid from international organisations has helped thousands of families to stay in Afghanistan rather than migrate to neighbouring countries in search of employment opportunities, he said.
Work and construction
In addition to creating jobs, "Recovery, Reintegration and Resilience" has helped reconstruct infrastructure in villages.
Mohammad Zaman, 27, a resident of Dand district in Kandahar, said he has been unemployed for more than a year and is delighted to be part of the Work for Food programme.
"We are very happy that we are able to earn a living and that the infrastructure in our village is being improved," he said.
"We used to wander around aimlessly in the markets and on the streets, but now we are working and have an income."
"Both the educated and uneducated were jobless," he said. "Most of our educated youth were working for the government in the past, but they are now jobless."
"We reconstructed roads and canals in our area with the assistance of UK Aid Direct, and that will improve mobility in the coming winter, as well as the flow of water to agricultural lands," Zaman said.
Habibullah Omar, 34, another Dand district resident, said since he started working on the UK Aid Direct project, he has not been worried about hunger.
"I have been working with the project for two months," he said on October 26. "The food package I get at the end of each month is enough to feed my family."
"I was tired of being unemployed and had lost hope. Now, I am very happy that I am able to work and provide for my family."
"We rebuilt the road to our area, which was in very bad shape," he said. "We also dug and cleaned the large canal in our area through which now water easily flows to the agricultural lands."
"Nobody had cleaned the canal in recent years, and water would flow into houses."
The project kept many young residents from migrating to Iran or Pakistan, Omar added.
Reducing poverty
Projects implemented by international organisations have saved residents from poverty and hunger, said tribal elders and other local leaders in Kandahar.
"International assistance saved the livelihood and economy of the Afghan people from collapse," said Nizamuddin Qyam, a civil activist in Kandahar city. "Most Afghans wouldn't have had anything to eat if it were not for this aid."
"In addition to the distribution of food, we see the implementation of development projects," he said. "Thousands of Afghans are busy working on those projects and have income, funded by international aid organisations."
Given last year's developments in the country that led to the economic and employment crises in Afghanistan, the international community must continue its assistance to Afghans, he said.
Thousands of families would have been forced to migrate to neighbouring countries had it not been for international aid, said Mohammad Musa Noorzai, a tribal elder in Kandahar city.
"International assistance has saved many lives," he said.
"A humanitarian crisis could have taken place due to hunger in those tough circumstances if it weren't for the global assistance," he said. "Afghans have lost their incomes and cannot feed themselves and their families."
"Drought and floods have destroyed most of the private agricultural lands in the last year," he added.
Meanwhile, Afghans "have lost income from unemployment and economic crises".
"International assistance that is distributed ... every month has reduced poverty," he said, adding that more support is needed during the winter.