KANDAHAR -- As the economic crisis deepens in Afghanistan, the United Nations (UN) World Food Programme (WFP) and Food and Agriculture Organisation (FAO) have launched an initiative to distribute backyard poultry packages to impoverished women in Kandahar.
During the first phase of the initiative, which kicked off November 23, as many as 588 people -- including 530 women -- received the assistance packages in Kandahar city's 15 districts.
The project will be implemented in districts across Kandahar province in the future.
Each package includes 30 pullets, 150kg of poultry feed, three wooden beams for roofing, and three feeders and drinkers (feeding and watering equipment for chickens).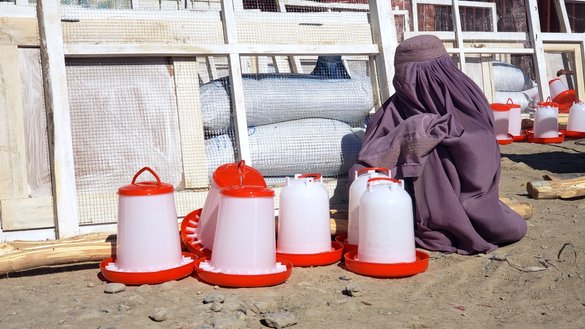 The same assistance was given to 588 women in Bamiyan province, the FAO announced Monday (November 28).
Most of the women who received the assistance lost their husbands during the fighting of 2001–2021 and are their family's sole breadwinners, Mohammad Hamid, director of the Kandahar Provincial Agriculture Directorate, said.
"The hens are expected to lay eggs so that the receiving families can sell them in the market every day. Each family will earn more than 300 AFN ($3.37) daily from selling the eggs," he added.
"They are very poor and deserve this aid ... which will transform their household's economic situation," he said, adding that more families will be later covered under the initiative.
Hamid said these families will eventually be able to breed chickens with the hens they own, raise them, sell their products and earn more income.
In August, the US Agency for International Development (USAID) contributed $80 million to the FAO programme to improve food security and nutrition for Afghans and to deal with the impact of drought on agriculture.
Fighting poverty
Recipients of the programme's assistance said they hope the income from their backyard poultry farms will help them save their families from poverty.
Kafiya, 32, who is disabled, lives with her disabled husband and four children under seven years old in a mud house in Kandahar city's fourth district.
Her family is facing extreme poverty and she intends to make ends meet by raising chickens and selling eggs, she said.
"Winter is approaching, and I don't know how we might survive the cold weather. Hopefully, I can use the income from the assistance to buy food and warm clothes [for my family]," she said.
She said she will set up a poultry farm in her backyard so that she can closely monitor and take good care of the chickens.
Gul Dasta, 41, another poultry package recipient, said she will also use the income from selling the eggs to buy food and clothes for her six children.
"There is not enough food at home to feed my family. Sometimes, we don't even have a loaf of bread to eat," she said.
"People are very poor in my area, and they cannot find food for days. They cannot even afford to buy a kilogramme of onions to eat with bread," Gul Dasta said, adding that she is thankful for the assistance from the WFP and FAO.
Need for more assistance
With the deepening economic crisis over the past year, most Afghans have faced extreme poverty and hunger. But as winter approaches and temperatures drop, concerns about the deterioration of living conditions increase.
Half of the Afghan population of 40 million is acutely food insecure, the International Committee for the Red Cross (ICRC) said in a tweet on November 21 said, noting that as the winter sets in, the lives of millions of Afghans will be at risk.
"In #Afghanistan, pneumonia and malnutrition cases amongst children are spiking. Cold weather and economic hardships make families face an impossible choice: eat or heat," ICRC Afghanistan said in another post November 24.
Almost 80% of the Afghan population may not have access to heating materials to keep their homes warm in the winter, the UN Population Fund (UNFPA) recently warned.
In a statement released November 22, the WFP announced it has pre-positioned food assistance in mountainous and remote areas to reach 2 million Afghans in these areas until April 2023.
Across Afghanistan, the WFP will support 15 million Afghans this winter, it added.
There is no hope other than humanitarian assistance from the international community to save Afghans in the winter months, said Khairullah Noorzai, an economist in Kandahar city.
Most Afghans have lost their jobs and income and depend on aid, he said.
"Unfortunately, the economic crisis is worsening. There is a dire need for more assistance from the international community. Reaching a political settlement is a must to end the ... crisis in Afghanistan," he added.
"Afghans have become a burden on the international community, and this disastrous situation must end," Noorzai said. "For how long can donor countries and relief organisations keep providing Afghans with money and food?"
The only way to end the crisis is the establishment of a government acceptable to the Afghan people and the international community in order to create employment and normalise relations with the world, he said.