MAZAR-E-SHARIF -- In a bid to overcome mental pressure and release stress brought on by the growing restrictions on their freedoms, women in Balkh province are hoping they can find relief again in sports and physical activity.
A yoga group that used to bring together about 400 women and girls at the Indian consulate in Mazar-e-Sharif has now moved its meet-ups to a residential house after their numbers were slashed to a mere 15 members over the past year and a half.
Asal Salahshor, 24, said they started the yoga group four years ago with the support of the consulate.
"In the past, about 400 girls used to practice yoga in Mazar-e-Sharif, but now that number is reduced to 15, and we exercise secretly in a residential house," she said, without providing further information about where and when they practice for security reasons.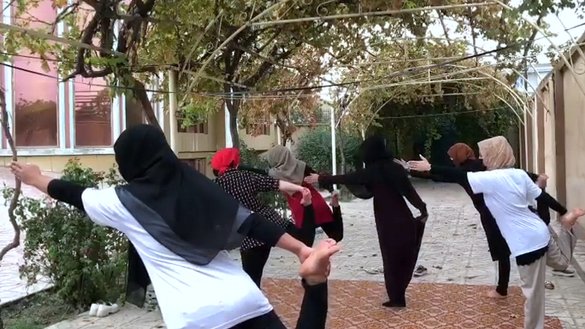 Yoga, which originated in India thousands of years ago, has seen its fan base grow in Afghanistan in recent years.
"Yoga is very effective at alleviating mental and psychological pressures," said Salahshor.
"I felt a lot of mental and physical changes in me while practicing yoga, and it gave me complete mental peace," she said.
Now that women are not allowed to practice yoga openly anymore, Salahshor said her mental health has suffered.
"Yoga is a great sport. It improves self-esteem and is very important, especially in our society, in which men have a traditional view towards women and think women should be obedient to them," said Habiba Jasoor, 25, another yoga practitioner in Mazar-e-Sharif.
"Women and girls should be able to work and progress," she said, adding that they must change men's "very narrow view towards women".
"Sports do not contradict Islamic and Afghan values," she said. "We want to have a role in society while still observing the Islamic hijab."
Sports improve lives, society
While girls and women are under immense mental and psychological pressure, sports, and yoga in particular, can help them overcome social challenges, said Khalida Najmi, 32, one of the yoga instructors in Mazar-e-Sharif.
"Afghan women and girls who are interested in sports face numerous social and cultural restrictions," she said. "[But] we will never surrender and want to defend our legitimate rights."
Practicing sports can help the approximately 90% of women who spend their days at home, inactive and unemployed, she said.
It can achieve positive changes in their lives, Najmi said, calling on the authorities to allow women more opportunities to engage in sports and social activities.
Women's role in society is critical and they too have the right to play sports, said Khuda Bakhsh Rezae, 36, a bodybuilder in Mazar-e-Sharif.
"Women have made great achievements in sports for Afghanistan. That's why women's sports are a necessity and must continue," he said.
The progress of women leads to the progress of society and a country as a whole, Rezae said, calling for alleviating the restrictions on women's freedoms.
Pardes Dehqanzoi, finance manager of the Balkh Department of Sports, said his department has been trying to create appropriate opportunities for women's sports.
"We are trying to build sports stadiums and gymnasiums for women in Mazar-e-Sharif so that they can continue to practice sports like they used to," he said.
"Men are currently busy playing sports for different sports federations every day. If we create better opportunities for women, their sports activities will resume as well," he said.