KUNDUZ -- After three years of torture, extortion and suffering under Taliban rule, residents of Dahna-i-Ghori District, Baghlan Province, have been able to resume their normal lives thanks to Afghan security forces.
Afghan security forces liberated the district from the Taliban on October 23.
"We have inflicted heavy casualties on the Taliban during the six-day operations and killed their key figures," Baghlan police chief Gen. Wais Ahmad Samimi told reporters as he entered the district bazaar on October 24.
Security forces wounded Haji Khan, chief of the Taliban military commission for Dand-e-Ghori, a suburb of Pul-i-Khumri (the provincial capital), and Maulawi Khalis, a local commander, Samimi said.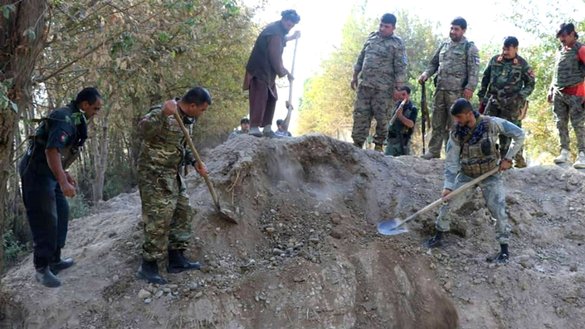 The security forces will not allow the district to revert into a Taliban stronghold, Col. Abbas Tawakuli, commander of the 3rd Brigade of the 217th Pamir Corps, told local reporters in the district.
"During the operations in Dahna-i-Ghori District and the Dand-e-Ghori area, 58 Taliban fighters including Bakhtyar, the Taliban's shadow deputy governor for Baghlan Province and shadow district governor for Roi-do-Ab District of Samangan Province, were killed and more than 60 of them injured," Tawakuli said.
"A total of 100 Taliban fighters including members of their military commission, a judge, a tithe and zakat collector, and fighters of their Red [elite] Unit were either killed or injured," he said.
The local government will help displaced families to return to the district, Baghlan Deputy Governor Abdul Qadim Niazi, who travelled to the district with security officials and participated in an Afghan flag raising ceremony on October 24, told local reporters.
Dahna-i-Ghori is a strategic location near Pul-i-Khumri and had been one of the most dangerous districts under Taliban rule, officials noted.
The Taliban also used the area as a military base for recruiting and training Taliban fighters, according to members of the Baghlan Provincial Council.
In addition, the Taliban drew up most of its major plots for northeastern Afghanistan in Dahna-i-Ghori District.
Surviving years of torture
Residents of Dahna-i-Ghori District say the Taliban beat and tortured them during their oppression of the district. The Taliban also expelled from their homes families whose members served with the security forces.
"The Taliban inflicted a variety of atrocities on our innocent people," said Safar Muhammad Naikandish, a tribal elder in Dahna-i-Ghori District.
"They forced civilians into giving them ushr and food," he said. "They broke TV sets and [illegally] collected electricity payments, and no one had the right to complain to the government about them."
"They extorted 'taxes' from trucking companies, construction companies and other businesses at gunpoint," he added.
Over the past three years, more than 1,500 families of the district had fled their homes for Pul-i-Khumri and neighbouring districts because of the Taliban's atrocities, according to Naikandish.
The Taliban committed horrifying and humiliating acts during their rule, said Ghafar, another resident of the district, under a pseudonym.
"After they captured the district, [the Taliban] skinned alive two captured policemen on August 20, 2016, and then shot them to death," he said.
"These [police] didn't surrender to the Taliban, and this is why they peeled their skin off when they were still alive and then brutally killed them," he said.
In addition, Ghafar accused the Taliban of using the residents of Dahna-i-Ghori District as human shields during the entire three-year period.
The Taliban set fire to a number of locally owned shops and properties in the first days after they captured the district, local residents say.
"As a result of a clash between the Taliban and the government on August 16, 2016, nearly locally owned shops in the district bazaar were burned, and every store owner lost 400,000 AFN [$5,100]," said Nazar Muhammad Ebadi, a resident of Dahna-i-Ghori District.
"One was my brother's clothing and houseware store," he said. "It was burned with all its goods."
He holds the Taliban responsible for the casualties, damage to civilian property and residents' huge financial losses during the past three years, he said.