KUNDUZ -- Drivers who frequent the highways connecting Afghanistan's northeastern provinces accuse the Taliban of extortion and murdering civilians and security personnel who refuse to pay.
These bloody acts are in violation of the peace agreement reached between the Taliban and US negotiators in February and harmful to intra-Afghan peace talks, which both the Afghan government and Taliban say will begin soon.
Drivers and commuters using the highways in the northeastern provinces are demanding improved security.
The Taliban have checkpoints in Jar-e-Khoshk, Charshanba Tapa, Bayesqal, Baghlan-e-Markazi and Bala Dori areas of Baghlan Province, and they are harassing drivers and passengers, said Abdul Qayoum Hamidi, a taxi driver who works along the Kunduz–Kabul highway.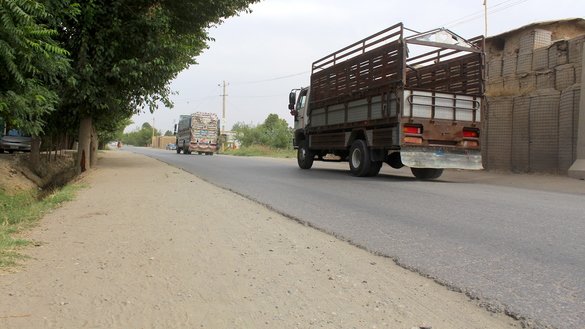 "I have been driving a taxi for 10 years on this highway," he said. "I have witnessed the Taliban stopping and searching civilian vehicles. They take government employees with them if they find any."
Sharifullah Ghanizada, who lives in Takhar Province and works for the Kunduz Department of Transportation, said he has not been able to return home for the past year because of the Taliban's checkpoints.
"I dare not take the Kunduz–Takhar highway and go home," he said. "Last year, I ran into two Taliban checkpoints near Khanabad District. It was very difficult to pass through them."
Extortion and harassment
Thousands of vehicles commute between Baghlan and Samangan daily, and the Taliban take money from all large and small commercial vehicles, said Mohammad Iqbal Sadid, driver of a trailer truck in Baghlan.
"The Taliban take between 20,000 and 30,000 AFN ($262–$392) from trucks and 5,000 and 15,000 AFN ($65–$196) from smaller vehicles, and if a driver refuses to pay, they will burn his vehicle," he said.
"I personally saw on June 23 when travelling from Kunduz to Mazar-e-Sharif the Taliban shoot dead a truck driver after he refused to pay them in Chashma-e-Shir of Baghlan Province," said Farid Ahmad Sekandari, a resident of Kunduz Province.
"The Taliban have established a money collection area in the bazaar of Chashma-e-Shir," he said. "Payment for each vehicle varies. Trucks transporting oil and gas have to pay 30,000 AFN ($392), coal trucks pay 10,000 AFN ($131) and ordinary vehicles pay 3,000 AFN ($39)."
The Taliban search civilian vehicles on highways and shoot government employees including security personnel on the spot, said Sher Mohammad Askarzada, a shopkeeper in Taloqan, Takhar Province.
"When I was bringing goods from Kunduz to Takhar Province for my shop on May 10, the Taliban stopped our van, ordering us to get out," he said.
"Three Afghan National Army [ANA] soldiers were travelling in civilian clothes in the van, but the Taliban identified them and shot them dead in front of us on the roadside," he said.
Violation of the peace agreement
Under the terms of the peace agreement signed February 29, the Taliban made a commitment not to attack highway users.
Not only have the Taliban intensified their violence on the Kunduz, Baghlan, Takhar, and Badakhshan highways, they have been killing civilians and security personnel and harassing passengers, said Ainullah Adeeb, a political analyst in Kunduz Province.
"The Taliban ambushed a military convoy in Khwaja Pista village along the Kunduz–Takhar highway when the convoy was travelling from Kunduz to Takhar on June 4," he said.
"The firefight between security forces and the Taliban lasted almost three hours, closing the highway," he said. "Civilian vehicles were struck, and three civilian travellers were killed."
"The Taliban, unfortunately, are not committed to any kind of agreement since their decision-makers are other people who see their interest in continuing the war in Afghanistan," said ANA Maj. (ret.) Ghulam Murtaza Shafiq of Kunduz Province.
"The Taliban have violated their agreement with the United States in most cases, which shows that they do not believe in peace, a long-standing hope of the people of Afghanistan," he said.
"They have not cut their off their ties with foreign terrorist groups but have intensified war and violence as well as their attacks on highways and have refused to accept a permanent ceasefire," he said.
Efforts to close highways
The Taliban attacked the Baghlan–Samangan highway in the Chashma-e-Shir area on June 24 in an attempt to close it, but security forces reacted swiftly, local officials said.
Counter-attacking forces came from the ANA, National Directorate of Security and the National Police, said Ahmad Jawed Basharat, a spokesman for the Baghlan police department.
Nine Taliban fighters were killed and six others were injured, he said.
"Qari Juma Gul, alias Mutaqi, a relative of Qari Salahuddin, who is in charge of Taliban bombings, was among those killed," Basharat said.
Starting from mid-March, security of Highway 1 in the northeastern provinces -- especially highways connecting Kunduz, Baghlan, Takhar and Badakhshan provinces -- became the responsibility of the ANA, said Col. Abdul Hadi Jamal, spokesman for the 217th Pamir Corps.
"Our forces have checkpoints, security bases and mobile units in vulnerable areas of these highways," he said, adding that they are able to "promptly repel Taliban attacks".
"We have repelled three large-scale Taliban attacks on the Kunduz highway in the last three months, inflicting heavy casualties on the Taliban," he said.
"Security threats on the highways are a serious priority for the Pamir Corps," he said. "We will start clearing operations very soon to eliminate terrorist groups on these highways."