KABUL -- Afghan activist Omaid Sharifi's art collective spent seven years transforming stretches of Kabul's labyrinthine concrete blast walls with colourful murals -- then the Taliban marched in.
Within a short time of the Taliban taking the capital, many of the street art pieces have been painted over, replaced by drab propaganda slogans as the Taliban reimpose their austere vision on Afghanistan.
The images of workers rolling white paint over the art were deeply foreboding for Sharifi, co-founder and president of the non-profit ArtLords, whose collective has created more than 2,200 murals across the country.
"The image that comes to my mind is (the Taliban) putting a 'kafan' over the city," he told AFP in a phone interview from the United Arab Emirates on Monday, referring to the white shroud used to cover bodies for Islamic burials.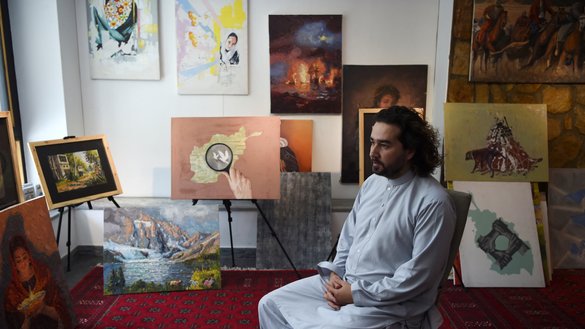 But even as the Taliban erase the work of ArtLords artists, and despite being forced to flee for his safety, Sharifi said he would continue his campaign.
"We will never stay silent," he said, from a facility housing Afghan refugees. "We will make sure the world hears us. We will make sure that the Taliban are shamed every single day."
In a 2018 interview with Salaam Times, Dr. Bashir Ahmad Sarwari, director of the Ministry of Public Health's Mental Health Department, noted the prevalence of mental health issues in Afghanistan related to "the negative impacts of war".
He said wall paintings and messages of peace had served as an important tool to help reduce stress and psychological pressure in society.
Herat-based psychologist Muaydulhaq Muwahedi said such images are needed to communicate effectively to a large part of the community because of the country's low literacy rate.
Additionally, he said, "pictures and paintings containing peace messages in Herat city bring a sense of hope to the public and make it optimistic about the future".
The Taliban have not only targeted images and art, militants also trashed a library dedicated to providing education for girls and boys in Daikundi province during their sweep to power last month.
Video footage showed books pulled from the shelves, door locks smashed and pictures defaced.
With the Taliban back in power, many feel a sense of foreboding as the group clamps down on Afghan freedoms.
On Monday (September 6), universities opened for the first day of the academic year with students segregated by gender and women ordered to wear niqabs.
On Tuesday, the Taliban announced a new government composed of hard-liners.
Hundreds of defiant women marched in the streets of Kabul on Tuesday, demanding the Taliban respect their rights. The group responded by firing shots into the air to disperse the rallies.
Campaign for peace
Since its inception in 2014, ArtLords has campaigned for peace, social justice and accountability. Their murals honoured Afghan heroes, called for dialogue instead of violence, and demanded rights for women.
They also shamed the powerful in Afghanistan with street art of warlords and allegedly corrupt government officials, for which they braved death threats and were branded infidels by Islamist extremists.
They remained unrepentant, and kept at it until the end.
On the morning of August 15, with the Taliban at the gates of Kabul, Sharifi and five of his colleagues went to work on a mural outside a government building.
Within hours, they saw panicked people rushing out of government offices and decided to return to the ArtLords gallery.
"All roads were blocked," Sharifi said.
"The army, the police were coming from all sides, abandoning their cars, and everybody was running."
When the group finally made it to the gallery, they learned that Kabul had fallen.
Sharifi was 10 years old in 1996 when the Taliban first came to power, and he witnessed their harsh rule until US-led forces toppled them five years later.
This time around, he said, "I expect that not a lot has changed."
Sceptical of Taliban
Like Sharifi, many Afghans are sceptical of Taliban claims of a softer government. Few have forgotten the public executions, and the blanket ban on entertainment -- including on movies and music.
Sharifi said he "vividly remembers" the public punishments at a football stadium in Kabul, which included beheading or amputation for various crimes.
As Kabul fell to the Taliban, tens of thousands of Afghans, including many artists and activists, rushed to the airport, fearful of life under the group's rule.
Sharifi said he was able to help 54 artists escape with their families, but more than 100 are still in the country.
"All of them are in hiding; all of them are fearful... They're just trying to find a way to get out of Afghanistan," he said.
Though he left everything behind, Sharifi vowed to continue campaigning and creating art.
"The only thing that keeps me going is that I think this is not the end," he said.