KABUL -- Iranian officials are taking advantage of Afghanistan's critical economic situation to pressure Kabul over the flow of water from the Helmand river, say Afghan observers.
Allowing Tehran to exercise its water rights would serve as an essential indicator of Afghanistan's adherence to its commitments under international law, Iranian Foreign Minister Hossein Amir-Abdollahian said July 28, the Tehran Times reported.
Amir-Abdollahian made his remarks a day after Afghanistan inaugurated the second phase of the 100MW Kajaki Dam on the Helmand river.
Sistan and Baluchestan province in southeast Iran is dependent on the Helmand river's water, he noted, warning that a failure to quickly rectify the issue could harm other areas of co-operation between the two nations.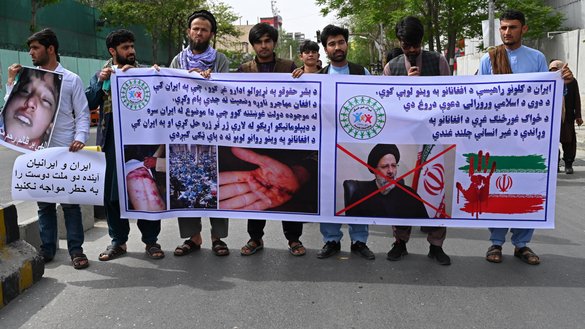 A high-ranking delegation from Iran's Ministry of Energy will visit Afghanistan to work on removing any remaining barriers that prevent Iran from drawing water directly from the river, he said.
Under the 1973 Helmand River Water Treaty between Afghanistan and Iran, Iran has the right to receive 26 cubic metres of water per second from the river.
For decades, Iran has received free water annually exceeding by many billions of cubic metres what the treaty stipulated, but Afghan dams have now started keeping the water in Afghanistan.
Iranian officials' attempts at playing victim have long irked Afghan observers.
"Climate change and regular droughts in recent years have decreased water levels in the Helmand river. In such cases, according to the agreement between Iran and Afghanistan, Iran's water rights are reduced as well," said Najib Aqa Fahim, a professor at Kabul University and a researcher of water issues.
"Therefore, Iranians have no right to complain," said Fahim, who previously also worked as state minister for disaster management and director of treaties at the Foreign Ministry.
"Since Afghanistan is suffering from regular droughts and the water levels have dropped, the new position and demands by the Iranian authorities regarding water rights are in violation of the treaty."
"Iran regularly received many times more water than agreed by both parties over the last 40 years," Fahim said.
"By taking advantage of the current turmoil and instability, the dire economic conditions, and unemployment in Afghanistan, Iranian authorities are trying to apply different means of pressure to achieve their goals and desires in Afghanistan."
Pressuring Kabul
"Getting free water while violating the treaty is one of Iran's main goals," Fahim said.
"Iran desperately needs every drop of water coming from Afghanistan. Its government has been under immense pressure from its citizens as we have witnessed several protests in recent months by Iranians accusing their government of incompetence and mismanagement of water and the environment."
"The government of Iran has no response to its citizens; therefore, it accuses its poor neighbour that is swamped by many other problems of not adhering to the water treaty just to deceive and mislead public opinion and to hide the incompetence and mismanagement of the Iranian government."
"The recent position taken by the Iranian authorities regarding Iran's water rights has political motives," Fahim added.
"On the one hand, they want to [blame] the drought and water shortages in the Sistan and Baluchestan region on Afghans. On the other hand, they are trying to pressure the Afghan side to ensure the continuation of the flow of water from Afghanistan into Iran."
"Iranian authorities accuse the Afghan side of not giving them their full water without any reason, while the reality is that in addition to the Helmand river water, the Iranians are using water flowing from three or four other rivers in Farah and other areas into Iranian territory," he said.
"By pressuring Afghanistan, the Iranian government is trying to stop all development and economic projects that Afghanistan is implementing related to its waters," Fahim said.
"For instance, the Iranians want projects related to the Kajaki, Bakhshabad and Salma dams to stop so that they can use Afghanistan's waters indefinitely, which is against the treaty."
Instigating conflict
"The Iranian government applies various means to pressure Afghanistan," said Salim Paigir, a Kabul-based political analyst.
"Torturing and deporting refugees, hiking the price of commercial goods it exports to Afghanistan, fuelling ethnic and religious conflicts, and even supporting different warring groups in Afghanistan are Tehran's main means of pressure to obtain more water," he said.
"By starting civil wars in Afghanistan in the past 40 years, Iran delivered a major blow to the Afghan economy, destabilised our country and forced millions of Afghans into migration in order to receive more free water in violation of the treaty," Paigir said.
"But the time has come that they pay the price for all this."
"Unfortunately, Afghanistan's neighbours, especially Iran, have not been good neighbours to Afghans throughout history," said Omar Nehzat, a political analyst based in Kabul.
"The Iranians have always tried to create political, security and economic crisis in Afghanistan to achieve their goals and interests," he said.
"Instead of helping Afghans as an Islamic country that shares a common language ... the Iranians are trying to make the situation even worse and use it to get more water."