HERAT -- The Taliban are supporting and arming criminals in Herat Province to spread violence and fill their pockets with illicit sources of income, local officials say.
Security forces have been working to stop the violence and shore up the militants' funding sources, arresting almost 3,500 criminals throughout Herat Province over the past year, according to security officials.
The detainees were involved in various crimes, such as abduction, assassination of security forces and civilians, robbery, targeted killings, drug trafficking and weapons smuggling, according to Herat Police Chief Gen. Aminullah Amarkhil.
"The Taliban have created an opportunity for all the crimes and the illegitimate war in Afghanistan," he said, adding that the criminals commit crimes with the Taliban's support and then join the militants' ranks.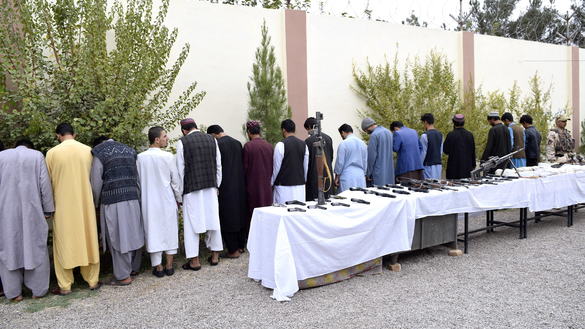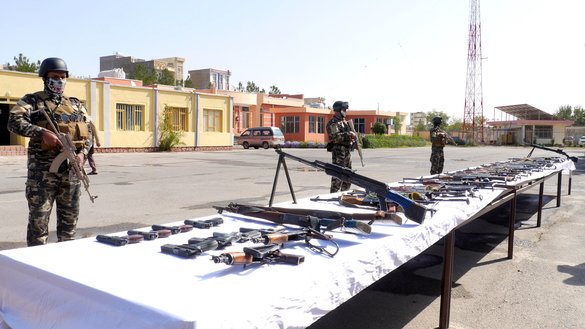 "All the captured criminals are closely associated with the Taliban," he said.
"The groups involved in crimes in [Herat] city are in contact with the Taliban as they are partners in crime," said Herat Governor Abdul Qayum Rahimi.
"The Taliban earn money by providing support to the criminal groups, and with the apprehension of nearly 3,500 criminals by security forces, part of the Taliban's income has been eliminated," he said.
Security forces in Herat Province are co-ordinated and working jointly to fight criminals and terrorists alike, Rahimi said, adding that all criminals must know they will be identified and captured anywhere they attempt to hide.
"The security forces have confiscated hundreds of illegal weapons from the criminals and terrorists in the past one year," he added. "If these weapons had not been taken from them, hundreds of innocent people would have been killed."
Areas under Taliban control provide suitable safe havens for crime rings, and the Taliban profit from supporting them, said Wakil Ahmad Karukhi, chairman of the Herat Provincial Council's security committee.
"Kidnappers receive a large ransom with every abduction," he said. "They threaten families, especially those of investors, and force them into giving them money."
The abductors "pay a part of this money to the Taliban in exchange for the Taliban's support", he said.
"There would not be any abduction or assassination cases in Herat without the Taliban's support [to the criminal groups]," he said.
Justice served, security improving
Karukhi called on the security agencies to further crack down on organised crime to improve security and to dry up the Taliban's revenue sources.
"We witness that security has improved in Herat city after the perpetrators of insecurity -- such as kidnappers, robbers and terrorists -- were arrested," he said.
Sayed Ashraf Sadaat, a civil society activist in Herat, agrees.
"The arrests of criminals ... in Herat city have helped cut down on the Taliban's activities," he said.
"Criminal groups are connected with the Taliban, and when the Taliban want to spread violence and disturbances ... in Herat city, they make use of these groups," Sadaat said.
"We call on the law enforcement and judicial agencies to punish these criminals," said Wakil Ahmad Nazari, a resident of Herat city. "We want to ensure they are not released in exchange for money or through other connections."
Local residents "suffer from these crimes and abductions every day", he said. "Residents cannot take their vehicles out of their homes out of fear ... The assassinations that took place have concerned many residents. The perpetrators must be punished."
"Those who have been arrested must see tough punishment so that it can become a lesson for other criminals," said Omaid Haqjo, another resident of the city. "It can be a lesson for these [criminals] themselves so that they do not return to robbery and bloodshed after they are released from prison."
Civilians "love to live alongside their families in a peaceful environment, but these gun-wielding men have ruined security," he said. "We call on the security forces to destroy them so they cannot further endanger civilians' lives."