KANDAHAR -- More young Afghans are interested in joining security forces in the southwestern provinces as a record number of high-school graduates this year head to Afghan National Army (ANA) and National Police recruitment centres.
"In the first six months of [solar] year 1399 (March-September), more than 2,500 educated young people in Kandahar, Zabul, Helmand and Uruzgan provinces have registered to join the National Army," Col. Noor Agha Hussain, deputy commander of recruitment of the 205th Atal Corps in Kandahar, said on Wednesday (October 7).
As many as 1,100 young people are receiving training, he said.
"Our expectation is that by the end of year 1399, 5,000 new recruits ... will graduate from our training centre," Hussain said.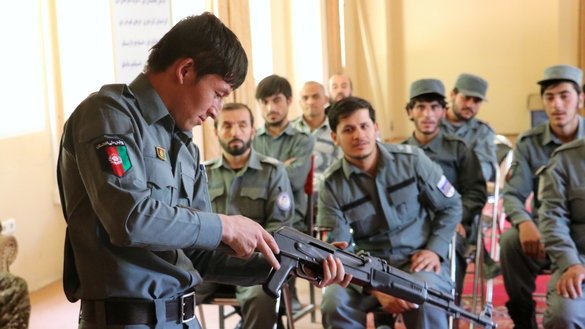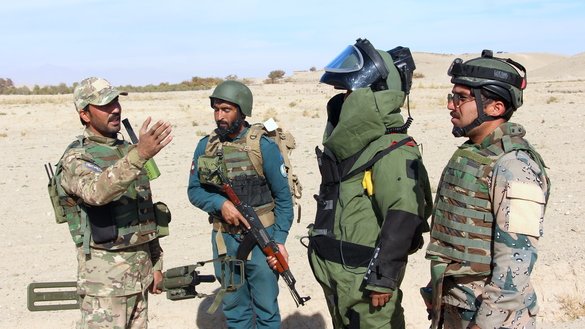 "This year, more ... graduates of high school and college have come [to join the military]," he added.
"We're thankful to God that professionals graduate from here, and they have shown success in bringing security and treating the public nicely."
Zabul Police Chief Col. Hekmatullah Kochai also reported an increase in educated young Afghans' interest in and recruitment by the police.
"Fortunately, we have recruited 400 new police officers in the past three months," Kochai said. "We have given them military training, and they work with us in various areas."
Recruiting more-professional police has helped improve security in Zabul, he said.
"There has been an increase in public co-operation with police because our police have become professionals who treat civilians well," he added.
"I call on all young Afghans ... they can defend their people and country just like we do."
Young recruits
Muhammad Lal Amiri, 21, a resident of Qalat, Zabul Province, graduated from high school last year and is joining the police. He has been taking part in a two-month course at a police training centre in Kandahar.
"I will serve my people in the ranks of police, and I'm proud to defend my country... it is the most important thing for me," he said on September 9. "Nine members of my family, including me, serve .... in the security sector."
"This is our country; others cannot [take responsibility for our defence and security] for us, and they can't protect our country for us," said Amiri.
"I call on all my peers to register themselves in their own security forces such as the police, the ANA and the Directorate of National Security and to maintain the security and dignity of their homes, villages, districts, provinces and country."
Abdul Jabbar Maiwandi, 23, a resident of Sargoon village in Zherai District in Kandahar, recently joined the ANA himself and is taking part in a six-month-long training course at the 205th Atal Corps in the province.
"A smaller number of residents of the greater Kandahar [southwestern] region are in the ANA, and we Kandaharis are better able to bring security to our region," he said on September 10.
"After I graduated from the education department of Kandahar University, I, in consultation with my family, applied to enroll in the ANA. I have been receiving training for four months now at the Atal Corps."
"In this course, we're taught how to protect ourselves, use weapons, fight the enemy and treat the public politely," he added.
"After completing my training, I will serve wherever the nation and government need me," he said. "I will try my best to win people's hearts and treat them well. I will fight those who hurt, harass, kill and injure our people, and turn them over to the law."
Maiwandi called on his peers to take up weapons to protect their homeland and force terrorists to accept peace.
'Everyone's obligation'
"The security forces have achieved much on the battleground, and that has had great impact on Afghans' minds, motivating them to send their children to join the security forces," said Ahmad Shah Khan Tarakai, a tribal elder in Kandahar.
"There were numerous clashes for the past six months, but it is God's blessing that our security forces bravely defeated the terrorists," Tarakai said on September 12. "Civilians were encouraged to register their children in the security forces so that they can defend their country."
"More than 7,000 young people in Zabul, Uruzgan, Helmand and Kandahar provinces have enrolled in the security forces and started to serve during the past year," he said.
"The security forces have become stronger than ever, and they have defeated the enemies of the Afghan people and soil in a way that they [the insurgents] couldn't imagine," he added. "If the terrorists stood and fought face to face and if they didn't hide in civilians' homes, they wouldn't exist now."
"I can confidently say that all of our achievements we owe to public support and to the security forces' treatment of civilians," said Tarakai. "I tell the entire nation that now is the time that all Afghans should play a positive role in defending their country."
Maulawi Rohullah Is-haqzai, a religious scholar, also praised the sacrifices of the security forces and called on Afghans to support their security forces.
"As a religious scholar, I am wholeheartedly proud of our police, national army and national department of security officers, and I appreciate their achievements," Is-haqzai said on September 10.
"Every one of our soldiers is a follower of the Prophet's righteous way. Their protection of the country and bravery constitute a great jihad. Anyone who fights against them is the enemy of the sacred religion of Islam.
"One of my sons serves in the police," added Is-haqzai.
"I call on other people as well to enroll their children today in the security forces. Defending the country is everyone's obligation. We're thankful to God that our own children can now maintain our security."
"It is God's mercy that our special forces and commandos conduct 95% of the operations independently without the support of any foreign forces," he said.