ZABUL -- As police become more professional in Zabul Province, co-operation between locals and the security forces has increased and security has improved, tribal elders and local leaders say.
"In the past, police posed many problems in Zabul," said Muhammad Juma Mizanwal, a tribal elder who lives in Qalat. "Sometimes they mistreated civilians, but recently, there has been a change in police behaviour."
"Police come to our village and mosque at least once in a month," he said. "They seek our advice, brief us on their programmes and assure us that they will maintain our security."
"Previously, we heard about security and criminal incidents in our neighbourhood and city every day, but currently, all is well in Qalat city," Mizanwal said.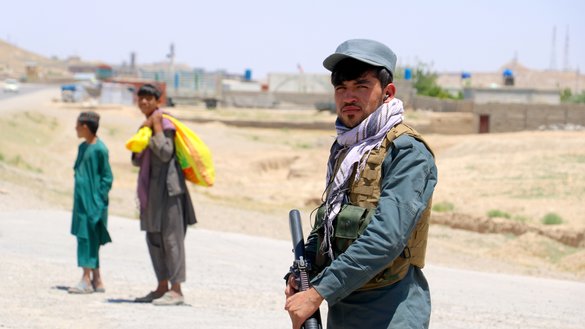 He attributed the change to increased training of the police force.
"Now everyone wants to enrol their children in the police, National Army and National Directorate of Security (NDS) forces so as to take part in bringing security to our city and province."
"A positive change that we can see in police is that their level of education has improved," said Asadullah Wafa, 28, head of the Shkula Youth Association.
"Most of the young Afghans who have joined the police have either graduated from grade 12 or university," said Wafa, who is originally from Shamalzi District but has lived in Qalat for the past year.
"These [new officers] are professional. They are familiar with laws and principles, and they have been trained in the essential skills of how to treat the public."
"The professional conduct of police has made us hopeful for a brighter future," Wafa said.
"Police now hold monthly meetings with residents of the city to hear their problems and generate more co-operation," he said. "Civilians share their issues directly with police authorities every day, and this has played a key role in narrowing the gap between police and the public."
"The Zabul Police Department has put up billboards with phone numbers to ask for help or register a complaint along 174km of the Kabul-Kandahar highway passing through Zabul Province," Wafa said.
"In addition, in every sector of Qalat city and every district of Zabul Province, phone numbers are visible on billboards that encourage the public to directly raise their issues with police authorities, and this has helped police greatly in upholding security."
Improved security, livelihoods
A number of Zabul businesspeople, religious scholars and elders say their lives, businesses and social relations have improved along with the gains in security.
"I have been running a dried fruit business in Zabul, Kandahar and Ghazni provinces for the past 20 years," said Janan Tokhi, a resident of Shah Joy District.
"Previously, we had numerous issues on the highway -- sometimes robbers stopped us and stole our goods and money -- but police have become very helpful over the past six months," he said. "They have arrested and jailed those who robbed us on the highway or posed other problems to us."
"We incurred losses in the past because of robbery and extortion, but now we are grateful that we have seen an increase in our income," Tokhi said.
"The security forces have created numerous facilities for Shah Joy businesspeople," he said. "They have secured our business places, and whenever we ask them for assistance, they help greatly in resolving our problems."
"In the past, crimes happened every day in Shah Joy bazaar, and businesspeople didn't feel safe," he said. "Some businesspeople even moved out of the province, but recently new, educated young officers joined the police force [and they] treat us nicely."
"Our police, National Army and national security forces are our children and the real saviours of this country," said Maulawi Muhammad Nazer Alamyar, a religious scholar and resident of Shahr-e-Safa District.
"Our security forces defend our Islam, soil, territorial integrity, people and national values the same way the companion of the Prophet protected the sacred religion of Islam."
"I have been impressed with the warm conduct of police," Alamyar said. "I have encouraged many of my students and followers to join the ranks of police, and I am grateful to God that many young Afghans have accepted my offer."
"I call on our Taliban brothers to renounce violence and safeguard public dignity and security just as the security forces do so this evil war doesn't continue to kill our youths," he said.
"The current war is illegitimate, and its only victims are Afghans," he added.
Rooting out corruption
Police reforms and consultation with local residents have led authorities to fire many members of the security forces who failed to serve honourably.
"A serious fight against corruption has been under way, and almost all police have become professional," said Zarbibi Sulaimankhail, a member of the Zabul Provincial Council. "In addition to this, more than 40 of our sisters also serve in the police in Zabul Province, which is a positive step."
"Fortunately, civilians have been co-operating with the police, and over the past six months as part of our reforms, we have fired 84 unprofessional police officers who harassed the public, and we recruited 400 new young candidates with higher education to the police force," said Zabul Police Chief Col. Hekmatullah Kochai.
In addition, authorities identified and removed 350 "ghost police" who are listed as being employed -- and who receive pay -- but are not actually serving, he said in September.
"We have broadened the scope of police operation in various areas," he said. "We have posted our phone numbers [on billboards] everywhere in Zabul Province to serve the public and ensure security, and civilians can call us from everywhere in Zabul when they need our help."
"Criminal and security incidents as well as counter-narcotics operations have been reduced by 50% compared to previous years," he said. "We have recruited experienced and highly educated candidates for positions in firefighting, counter-narcotics, criminal investigation and intelligence, and they have ensured security in much less time by establishing ties with the public and winning their trust."
"We assure all residents of Zabul that their security and defence forces will maintain their security day and night and that they will not allow anyone to create chaos in the province," he said.