HERAT -- Amid ongoing restrictions on women's work and education in Afghanistan, a number of women and schoolgirls have begun working at a tailor shop in Helmand's Lashkargah city.
As many as 50 women and girls work in the shop, mostly high school students who have been prohibited from going to school.
Mariam Mohammadi, 38, who manages the tailor shop, said she decided to open the shop after a long period of being confined at home.
"My three daughters are students. They have been at home ever since schools were closed," she said, adding that she decided to open the shop to save her daughters from the stress of being confined at home.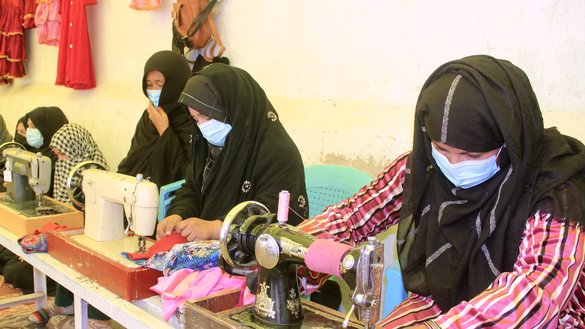 "After I opened the shop, many women and girls expressed their interest in joining, so I decided to expand it. Workers bring their own sewing machines, and we work together in the shop," she added.
The clothes made by the women and girls are now being sold in the market, earning them an income, Mohammadi said.
Hamida, 17, an 11th grader, works alongside her friends in the shop every day.
"It has been a year and a half since schools and courses were closed. I was confined at home during this time," she said.
Hamida said that her mental health and anxiety from being confined at home have improved since she started working at the shop two months ago.
She added that she is happy to go out and work despite current restrictions.
The right to work, study
Women and girls working in the tailor shop in Lashkargah city say women should have the same rights as men to work and study, and that their rights should not be violated.
Humaira Maiwand, 17, who was an 11th-grader at a high school in Lashkargah city and now works at the shop, said she took a class to learn tailoring instead of attending classes at school.
"It is better to work here in the shop than to stay at home. I want to learn tailoring skills so that I can become active in society and support my family," she said.
"Women should have the right to work. Men are not the only ones who have the right to work and play a role in society. Women should have the same rights," she added.
Allah Almighty has bestowed the right of education upon women, she said. "However, Afghan girls have been deprived of their human rights."
She said it is pointless to stay at home, and urged Afghan girls to come out and work in society.
Palwasha Noorzai, 16, a 10th-grader who is also employed in the tailor shop, said she plans to work outside her home and contribute to society so that women's voices do not remain silent.
"I had a better life when I was going to school. I was studying and feeling good about life. I wanted to continue my studies and make progress so that I could serve my country and family."
"However, I could not achieve my dreams because schools were closed," she added.
"I stayed home for a while and suffered from mental issues. But my mental situation has improved since I've started working in the shop. I can now learn sewing skills to support my family," she said.
Palwasha said with schools closed, staying at home causes psychological problems for girls and keeps them away from their dreams.
Silence must end
Women must resume work and social activities, say rights activists in Helmand.
Zulaikha Durani, a women's rights activist in Lashkargah, said society needs women, and without their contribution, it will go toward darkness.
"Educated and skilled women should not stay at home like prisoners. They must become engaged in all sectors so that society can make progress," she added.
"Silence against injustice makes women more vulnerable. They should not give up the fight to demand their rights and safeguard their achievements," she said.
Durani said women and girls are capable in various fields, and their talents and abilities should not be forgotten.
Spozhmai Zaland, 37, another women's rights activist in Lashkargah, also said women and girls should not remain silent against restrictions and exclusions.
Rights are not given but must be claimed, and Afghan women should join hands and demand their rights back, she said.
"Silence and marginalisation are not the solution, and they will keep women further away from society. Women must return to work and continue working in society."
"Despite gender restrictions, if women come out and return to work, no one will be able to underestimate their capabilities," she added.
"When Allah Almighty and Islam have given us the right to work and pursue education, why should we allow others to violate our legitimate rights? We must continue to fight and regain our lost rights," said Zaland.