HERAT -- Taliban officials have offered conflicting accounts of a security raid in Herat that reportedly left 16 Afghans dead, including children.
Taliban authorities in Herat said their fighters raided a residence in Herat city on Sunday (October 24), destroying it with explosives and killing four kidnappers. In that account, the death toll was four.
Other officials, however, said the raid targeted and killed 16 members of the "Islamic State of Iraq and Syria" (ISIS).
Salaam Times reporters witnessed images of the bodies of the 16 victims, including seven children and three women, in the morgue at Herat Regional Hospital following the raid.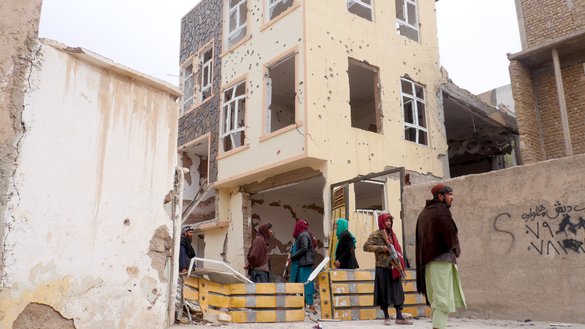 "Only four abductors were targeted and killed during the operation, and reports of the killing of children and women are baseless," said Mawlawi Naimulhaq Haqqani, the acting spokesperson of the Taliban administration of Herat province.
"Some opportunists want to create panic among the public, and they spread false news about the killing of women and children in this operation," he claimed.
"Daesh [ISIS] does not have a base in Herat, and some circles are spreading the false news about their presence here in this province," he said.
The Taliban's provincial police department in Herat also issued a statement on Sunday claiming that four kidnappers, and nobody else, were killed in Herat city's 15th police district.
But Safa Khan Ghazi, the Taliban's deputy police chief of Herat's 15th district, gave a different account, saying the Taliban attacked the house after reports of ISIS members being present.
"Four Taliban fighters were martyred, and we killed 16 members of Daesh [ISIS] during the operation," he said.
All 16 residents of the house were killed, said Mohtasim, a Taliban member who took part in the raid, adding that they were all ISIS members who planned to attack several mosques in Herat city.
"Women and children were killed in the operation. A wounded woman was arrested at the scene, and she is now being treated at the hospital," he added.
Panic, destruction
The Taliban raid lasted almost five hours and damaged nearby houses, according to residents living close by.
Wazir Ahmad Mohammadi, a resident of the15th district, said windows and doors of his house were damaged during the raid.
"We live close to the operation scene. Fierce fighting continued for several hours, and we were all frightened," he said.
"Our children had never heard gunfire before, but after this incident they have not been sleeping properly," he added.
Using heavy weaponry near houses where families with children live is inappropriate, said Mohammadi.
As many as 10 houses sustained heavy damage during the operation, said Mohammad Usman Nazari, another resident of the district.
"Bullets hit residents' houses, and they were damaged. Now these owners are forced to repair their houses," he said.
"The Taliban blew up a three-and-a-half-story building where the clashes took place by using explosives. The explosions were very loud and caused panic," he added.
While residents were expecting an end to explosions and suicide attacks after the Taliban takeover, the recent incident indicates that Afghans are still in great danger, Nazari said.
Unprofessional and careless
Launching an operation in residential areas with densely populated houses requires very thorough and professional planning, said Wali Mohammad Qaderi, a retired Afghan National Army (ANA) general in Herat city.
"I think the use of heavy weaponry and explosives was not necessary against several people in one house. If there had been professional planning, the Taliban could have arrested all suspects alive, without armed clashes," he said.
"The Taliban are still thinking about their past of carrying out suicide and destructive attacks on cities. Now that they are in charge as a government and responsible for providing security, they must safeguard the lives and property of the public," he added.
The Taliban should train their forces on how to conduct military operations within residential dwellings and urban areas, he said.
"Armed forces do not have the right to target and kill women and children even if they are the alleged suspects," he said.
The shooting of seven children and three women was horrifying, said Soraya Husani, a rights activist in Herat city.
One of the deceased women was pregnant and was expected to give birth in a few days, she said, citing medical reports.
The fate of the child she was carrying was not immediately clear.
"We urge the Taliban to be very careful with civilian lives, especially those of women and children, during their military operations," she said.
"Children are innocent and defenceless and have no role on the battlefield. Even if the men are guilty and engage in conflict, the lives of their children and women should not be threatened," Husani said.