HERAT -- Herat's religious scholars have condemned the mistreatment of Afghan refugees by the Iranian regime as un-Islamic and inhumane following recent reports of violence and torture.
Iran has hosted millions of Afghan refugees for decades, but fresh waves have flooded the country since August, testing the patience of authorities and ordinary citizens.
Horrific images and videos of Afghan refugees in Iran have been circulating on social media in recent months showing bloodied young Afghans who have been attacked with knives and other lethal objects.
Protests broke out last month in Herat after videos circulated purporting to show Iranian border guards and civilians beating Afghans, although it was unclear when and where the images were filmed.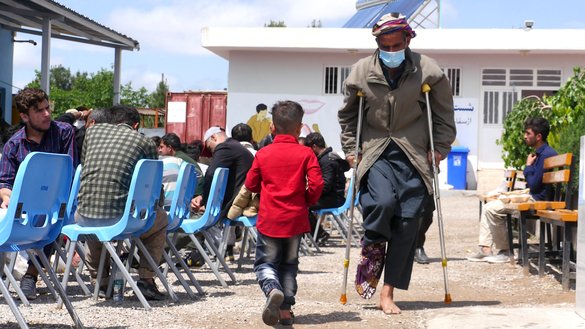 The Iranian regime does not respect Islamic values and violates Islamic precepts by torturing and killing innocent Afghans, say Afghan religious scholars.
"According to Islam and the prophet [Mohammad]'s quotes [Hadith], torture and mistreatment of Afghan refugees in Iran are strictly forbidden," said Mawlawi Abdullah Mawlawizada, a religious scholar in Herat city.
"If it were truly Muslim, the Iranian military would have never beaten, tortured and mistreated Afghan refugees," he added.
If a Muslim is forced to migrate to an Islamic country, it is the duty of that country to shelter him, Mawlawizada said.
While the Iranian government describes itself as Islamic, its treatment of Afghan refugees is completely un-Islamic, said Mawlawi Ghulam Mohammad Mohammadi, another religious scholar in Herat city.
The violence committed by Iranians against Afghan refugees is inhumane and in violation of sharia law, he added.
"Iran cannot mistreat and commit violence against helpless Afghan refugees who go to that country in search of work and food," he said, stressing that Islam is a religion of brotherhood and compassion.
From an Islamic perspective, a Muslim neighbour has many rights that its other Muslim neighbours must respect, according to Afghan religious scholars.
The rights of Afghan refugees have been grossly violated, said Qari Mohammad Arif Noori, yet another religious scholar in Herat city.
"The mistreatment and oppression of the Afghan refugees in Iran are against Islamic values," he added. "Islam rejects such behaviour."
Muslims are brothers, Noori said. One brother should not mistreat another brother.
"Iran was never a good friend of any of its neighbours. It has always sought its own gain at the expense and destruction of its neighbours," said Sibghatullah Azimi, a Herat resident.
"The Iranian government does not view Afghan refugees ... as humans," he added.
International courts must act
Some Afghan analysts and lawyers are calling on international courts to investigate the mistreatment of Afghan refugees in Iran.
In accordance with international migration laws, the Iranian regime may not mistreat Afghan refugees, said Mohammad Arif Aryafar, a lawyer in Herat city.
"We have witnessed the gross violation of the human rights of Afghan refugees in Iran," he said. "Refugees are completely helpless with no means to defend themselves."
"Some shocking reports also exist alleging that the Iranian government kills innocent Afghan refugees for different reasons and sells their organs," he added.
All these suspected crimes need to be investigated by reputable international organisations, Aryafar said.
"Everyone involved in the torture and killing of Afghan refugees in Iran must be identified and held accountable," he added. "Afghan refugees have been oppressed in Iran for decades, but we have never witnessed the prosecution of their perpetrators."
The oppression, mistreatment and killing of Afghan refugees in Iran are a crime against humanity that should be comprehensively investigated, said Mohammad Zahir Andishmand, a political analyst in Ghor.
"No one looks into ... Afghan refugees' grievances," he said of the situation in Iran.
The United Nations must intervene in the dire situation of the Afghan refugees in Iran and stop further mistreatment and oppression, said Andishmand.
"We know many people who have been missing in Iran for many years," he said, adding that the Iranian government "does not allow any organisation to investigate [the disappearances]".